What is Direct Marketing?
September 28, 2020 | MLM Insider
In our series of posts to help sellers that are new to the world of eCommerce and business, we turn our attention to direct marketing. Although social media marketing is one of the most cost-effective methods of marketing when you're starting your Drop Shipping business, it isn't always the right approach for every business. With that in mind, let's take a look at the alternative – direct marketing.
What is direct marketing?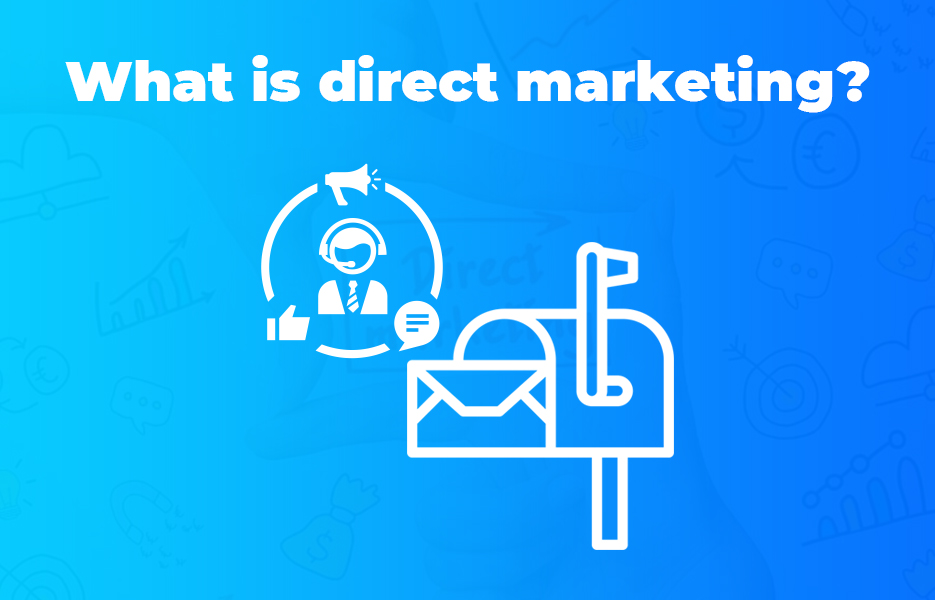 Direct marketing is a way of promoting your products, service or business directly to your customers. Your marketing is sent directly to your customers, rather than being sent through intermediaries or third parties.
What counts as direct marketing?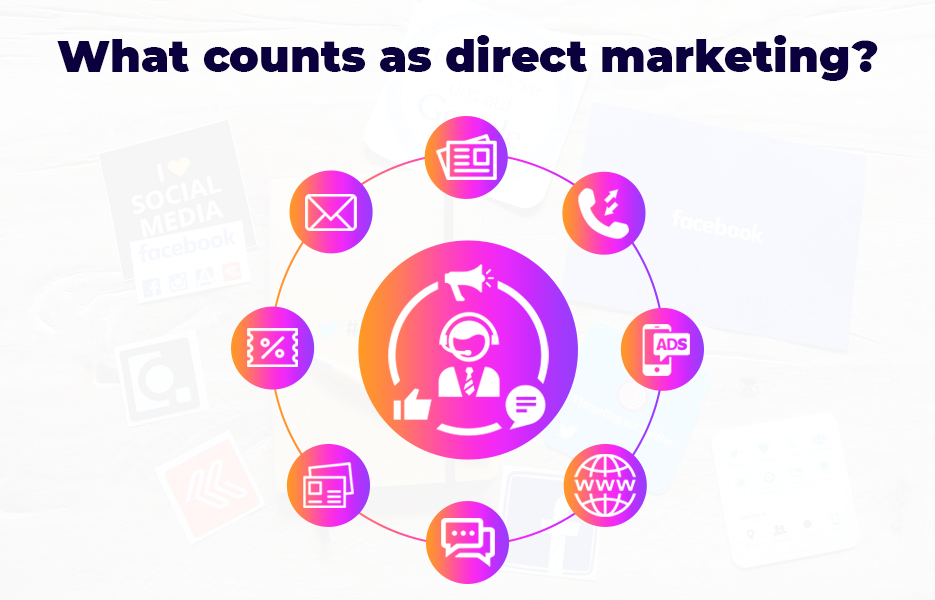 There are lots of different methods that can be used in direct marketing – and not all businesses will use all of them!
Emails
Newspapers
Phone calls
Online adverts
Outdoor advertising
Postcards
Flyers
Text messaging
Websites
Database marketing
Magazine adverts
Catalogue distribution
Promotional letters
Coupons
Apps that use location data
What is common about these types of direct marketing is that the aim is to encourage the customer to take action. Calls to action that are commonly used in direct marketing materials include:
Visit our website or store
Call us to find out more about our products or services
Enter your email address to subscribe
Buy directly from us
Of course, the call to action is very much dependent on what the business does, and what they are aiming to achieve from the exercise.
Why is direct marketing important?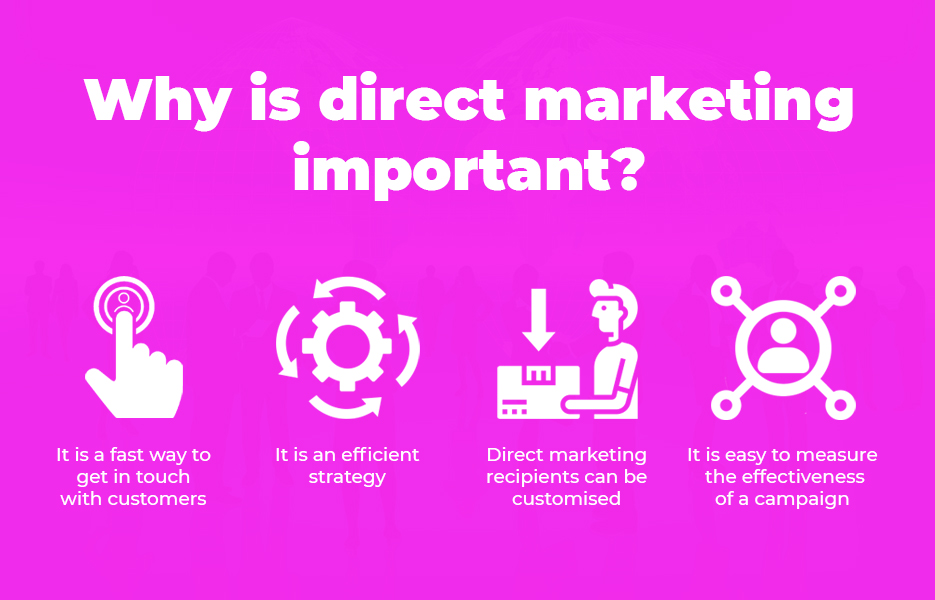 Direct marketing is important for businesses for plenty of reasons, but these are the most commonly mentioned reasons to use direct marketing methods:
It is a fast way to get in touch with customers. If you make a last-minute decision on Thursday lunchtime to run a flash sale through the weekend at your store, you can create an email and send it to email subscribers by the end of the day, and follow up with a second email on Friday. Emails are by far the quickest way, but businesses can also use text messaging and Facebook Messenger for direct marketing too.
It is an efficient strategy. Rather than trying to reach everybody with their marketing activity, direct marketing means businesses are able to reach individuals that are already interested in their products or services. This means their promotional messages are likely to be well received, and are likely to provide good return on investment.
Direct marketing recipients can be customised. Since customer data is kept in a (secure) database, businesses can use information about specific attributes, such as age, previous spend with the company, location and so on. Being able to segment customer data in this way means they can get their direct marketing in front of the people that are most likely to act when they receive it.
It is easy to project a professional image. Emails with a professional email signature are the perfect opportunity not only to customise every message you send but also establishes and reinforces your brand image.
It is easy to measure the effectiveness of a campaign. Because businesses know which customers received their direct marketing, they can easily measure how effective their campaign has been. Using metrics such as click-through rates, increase in revenue and numbers of enquiries means that they can measure the return on their investment.
How to measure the success of direct marketing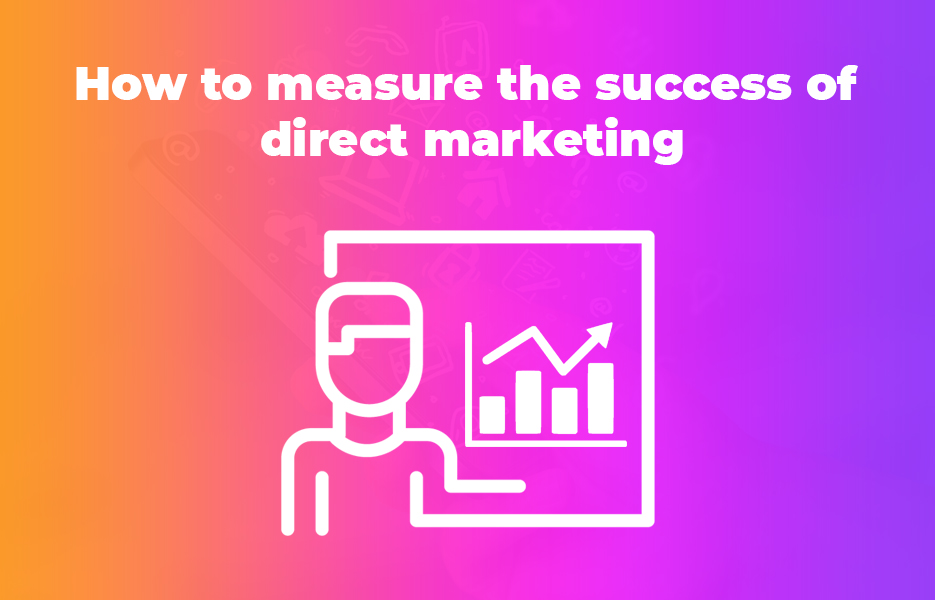 Measuring the success of direct marketing campaigns will depend on which type of contact is used, and what the overall aim of the campaign was. Here are some of the ways that you might use to collate information about the success of your campaign, and the KPIs that you might set.
Trackable phone number
Conversion rate
Trackable URLs (using a specific landing page)
Cost per Acquisition (CPA)
Coupon codes
Average Order Size
QR codes
Revenue per Order
Response rate
Return on Investment (ROI)
Advantages of direct marketing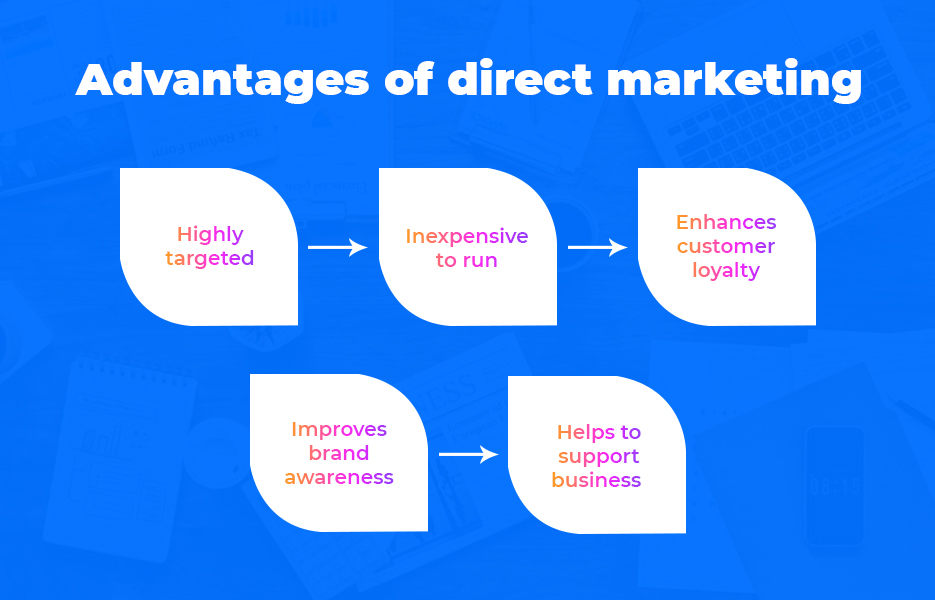 There are quite a lot of advantages of using direct marketing – and although each type of contact the business has with a customer will have its own merits, these are some of the over-arching benefits to using direct marketing.
Highly targeted
Company databases can be searched and refined to show the exact people that the business wants to target with that campaign. That means there is no doubt that the people receiving the message are the people that are most likely to spend with the company.
Inexpensive to run
Marketing budgets aren't always as abundant as we might like – in fact, some can be incredibly tight. But that's where direct marketing comes in, because the majority can be sent electronically. Any offline marketing can be targeted to the customers that are more likely to act as a result of receiving the marketing, making the additional business worth the investment.
Enhances customer loyalty
When customers receive unsolicited mailings, it can be annoying. But when customers receive direct marketing from businesses that they're actually interested in receiving, it has been shown to improve loyalty to the company. Generally direct marketing is combined with a customer loyalty programme, which can include other forms of direct marketing such as sending birthday discount offers and special sales event invitations.
Improves brand awareness
Although customers might have engaged with a business previously, they may not continue to engage with the company. By using direct marketing methods, the business can ensure their database is up to date and relevant, and where messages are ignored (e.g. where email is either not opened or deleted before being opened) or undeliverable, the database can be cleared of those contacts.
In addition, when customers haven't engaged with a company for a while, direct marketing can help the business to encourage the customers to revisit – either to the website or the store – which may result in them making a purchase. If they don't reengage, there may be valid reasons that the business can learn from.
Helps to support business
When businesses are encountering the difficult start-up period, or they encounter a downturn in trading, direct marketing can help. Where there is a need to improve sales of certain products or to clear dead stock direct marketing can be a great way to encourage customers to make purchases, or to become a long-term, loyal customer.
Challenges of direct marketing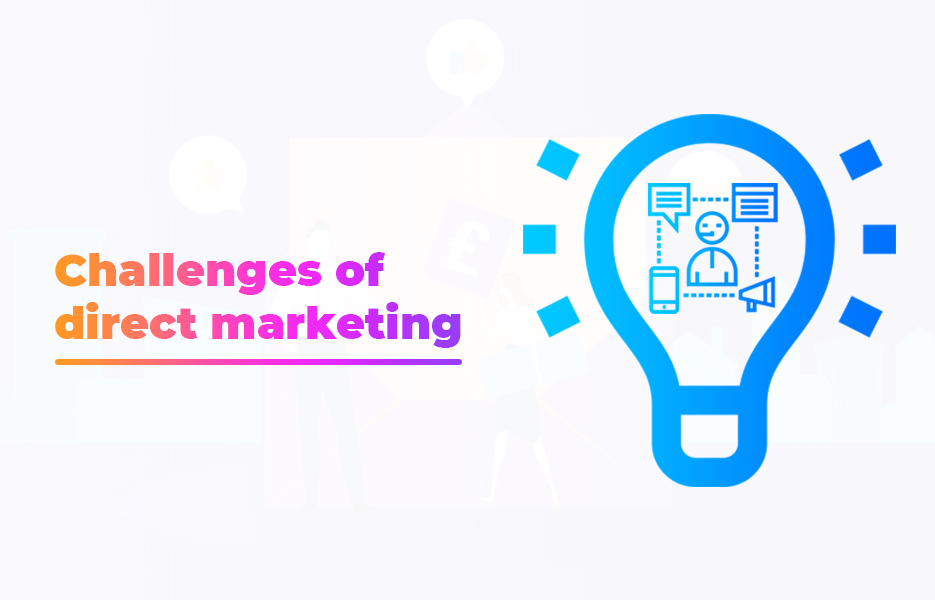 Even the best methods of marketing have problems with them – and direct marketing techniques are no exception. Some of these are particularly important, especially since data privacy has been highlighted to the public in recent years. Take our advice: be sure to carefully understand the risks of using direct marketing before you start!
Viewed as intrusive or annoying
There are some people who find direct marketing intrusive – particularly when it comes to telemarketing and mailings through the post, which many customers consider 'junk mail'. This can build a negative association with your brand, and so these types of marketing should be used carefully. Where they are used, they should be carefully targeted, so they are being sent to the customers that are more likely to receive them positively.
Negative environmental impact
When creating direct marketing campaigns offline, businesses should be careful to reduce the environmental impact of their activity. Since unwanted flyers and catalogues end up being discarded, it is important to use recycled materials where mailings are necessary. If the business trades on their 'green' or environmentally friendly credentials, online or phone based campaigns are going to be more suitable.
Low response rates
Some direct marketing response rates can be incredibly low. If marketing reaches customers who aren't interested, effort and money is wasted and may even produce a more negative effect if the recipient decides to complain publicly about receiving the mailing. This is avoidable by carefully choosing who to target from the customer database, rather than sending to all households in a particular area.
Competition
When there are so many emails received every single day, it is almost impossible to ensure that direct marketing emails will be seen – and if they are, that they will be opened or considered useful. With other methods of direct marketing, there may be competition for the recipient's attention – which may mean the mailing or call is disregarded pretty quickly.
Cost
Although some types of direct marketing campaigns are inexpensive, others can be resource hungry. Telemarketing costs can be high, especially where team members have to be diverted from other tasks. Mail shots, or printed flyers can be expensive too once postage has been taken into account.
Privacy and legal issues
The GDPR changed an awful lot of things when it comes to marketing activity. With the risk of huge fines for misuse of data, it is essential to only keep the customers who have consented to receive marketing messages on company databases.
Which businesses use direct marketing?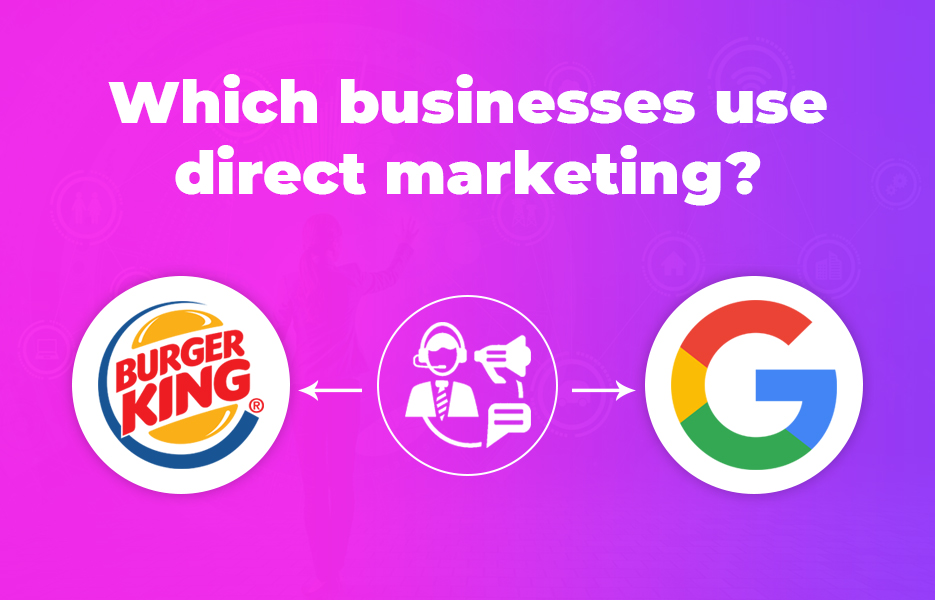 Businesses the world over have used direct marketing strategies for decades, and you can find countless examples online. However, here two major household brands that have used direct marketing.
Burger King
Many fast food vendors use coupons and codes to encourage their customers to visit their outlets. Burger King have effectively used geo-targeting as a direct marketing technique through the use of their website and mobile app. This is a particularly effective way of getting customers in the door, since the app uses location data to know when to push special offers to the phone. And since the user has consented when they downloaded and installed the app, there isn't any legal concerns.
In addition to the mobile app, Burger King use email marketing and in some areas, still puts promotional material in the post.
Google
You wouldn't think the company with the most-visited website in the world would need to make use of direct marketing, but they do. They use direct mail to promote new services to businesses, including Google AdWords coupons and information about how Google can help the business advertise their offering. As you would expect, Google tracks their results closely. While many of their direct mailings are sent by email, they also send through the post – using FSC-certified paper, and only sending relevant information to any potential clients.
THE TAKEAWAY
Direct marketing can be an effective way of ensuring your target customers see your offers, and in many cases, is the preferred strategy for small, local businesses.
Direct marketing distributes marketing materials to individual consumers rather than through mass media
Direct marketing can be a cost-effective, and efficient way to reach specific customers
Care should always be taken to gain the consent of the customer to use their information for marketing purposes
Direct marketing should be used carefully to avoid appearing unsolicited and annoying
Direct marketing should be one aspect of a wider, well thought out marketing strategy
However you decide to proceed – using direct marketing or not – we wish you the very best luck with your marketing endeavours, and for your business success to continue to build!
Dawn has worked in technical and customer supporting roles for over 20 years. Most of her career was spent in technical services at top rated UK universities, which has given her a keen eye for detail. A lucky escape led her to the field of eCommerce in 2017, and she's never looked back.
Dawn studied in the field of social sciences with the Open University, achieving an MSc in Forensic Psychology at the same time as working two jobs. She regularly applies principles of psychology from her studies to her work, and outside of her role at Avasam she is busy writing her first book.