6 Key Direct Selling Trends From 2020
March 9, 2021 | MLM Insider
The referral marketing space is shifting.
From our work daily supporting dozens of mlm, party plan, and direct sales companies with commission tracking software, marketing systems, and predictive apps at Naxum.com, we see real trends that are worth noting.
Here are our top 6 from 2020, if you'd like a copy of the full report, request a PDF here: Request PDF
#1 Death Of MLM Traditions, Refocusing 'Direct Sales'
Regulatory and cultural pressures are forcing direct selling companies to refocus on customer acquisition as the primary goal and are punishing brands heavily that only focus on recruiting affiliates and sales of products to affiliates.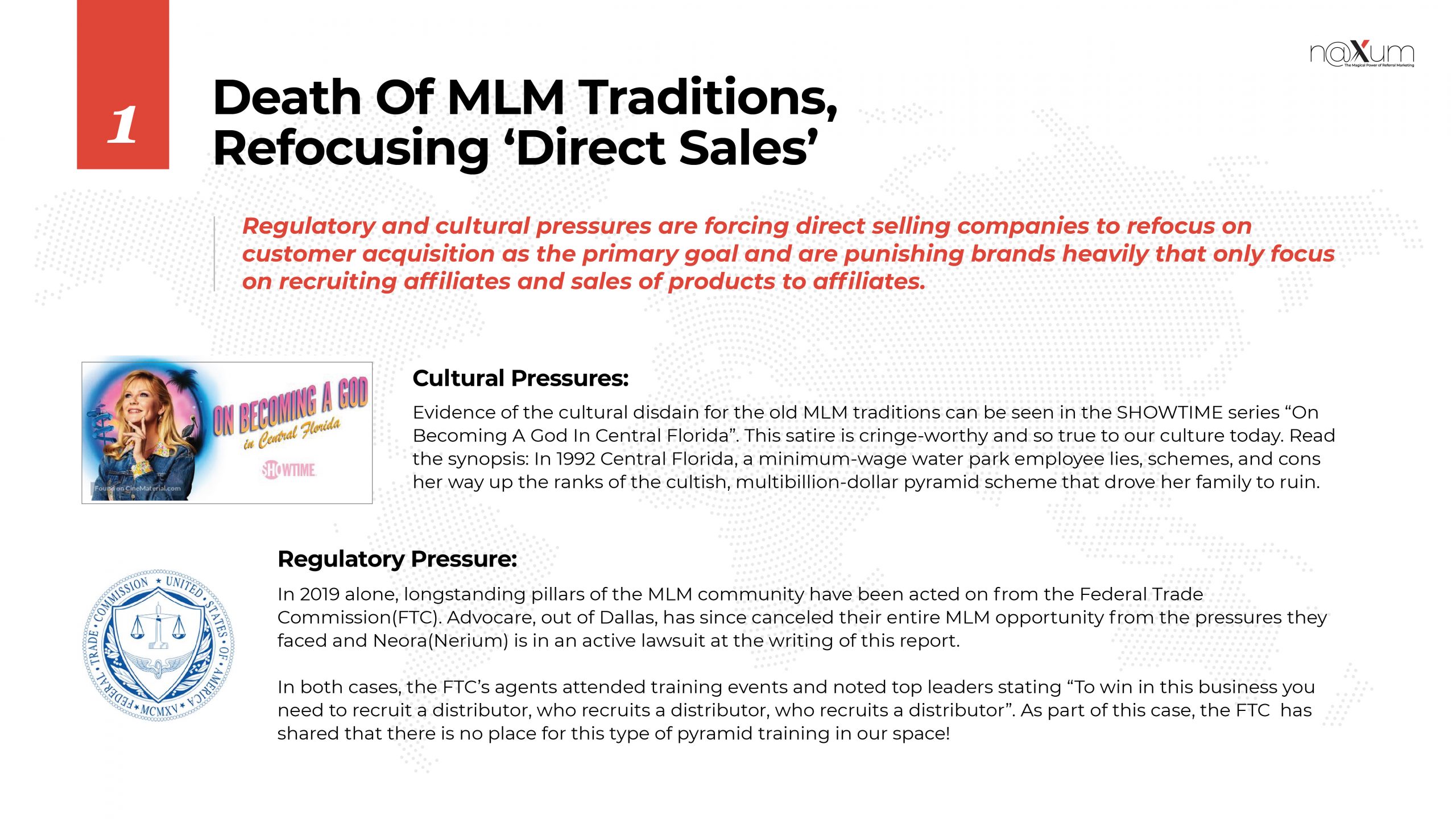 Cultural Pressures: 
Evidence of the cultural disdain for the old MLM traditions can be seen in the SHOWTIME series "On Becoming A God In Central Florida". This satire is cringe-worthy and so true to our culture today. Read the synopsis: In 1992 Central Florida, a minimum-wage water park employee lies, schemes, and cons her way up the ranks of the cultish, multibillion-dollar pyramid scheme that drove her family to ruin.
Regulatory Pressure:
In 2019 alone, longstanding pillars of the MLM community have been acted on from the Federal Trade Commission(FTC). Advocare, out of Dallas, has since canceled their entire MLM opportunity from the pressures they faced and Neora(Nerium) is in an active lawsuit at the writing of this report.
In both cases, the FTC's agents attended training events and noted top leaders stating "To win in this business you need to recruit a distributor, who recruits a distributor, who recruits a distributor". As part of this case, the FTC  has shared that there is no place for this type of pyramid training in our space!
#2 Gig Economy Influence
The Gig-economy influence has shown that people of all ages are seeking solutions to small financial challenges in their life. Uber, Lyft, DoorDash, and the likes have solved the $100-$400 challenge that many families have each month, where traditional MLM has always tried to focus on larger 'Dream' income goals.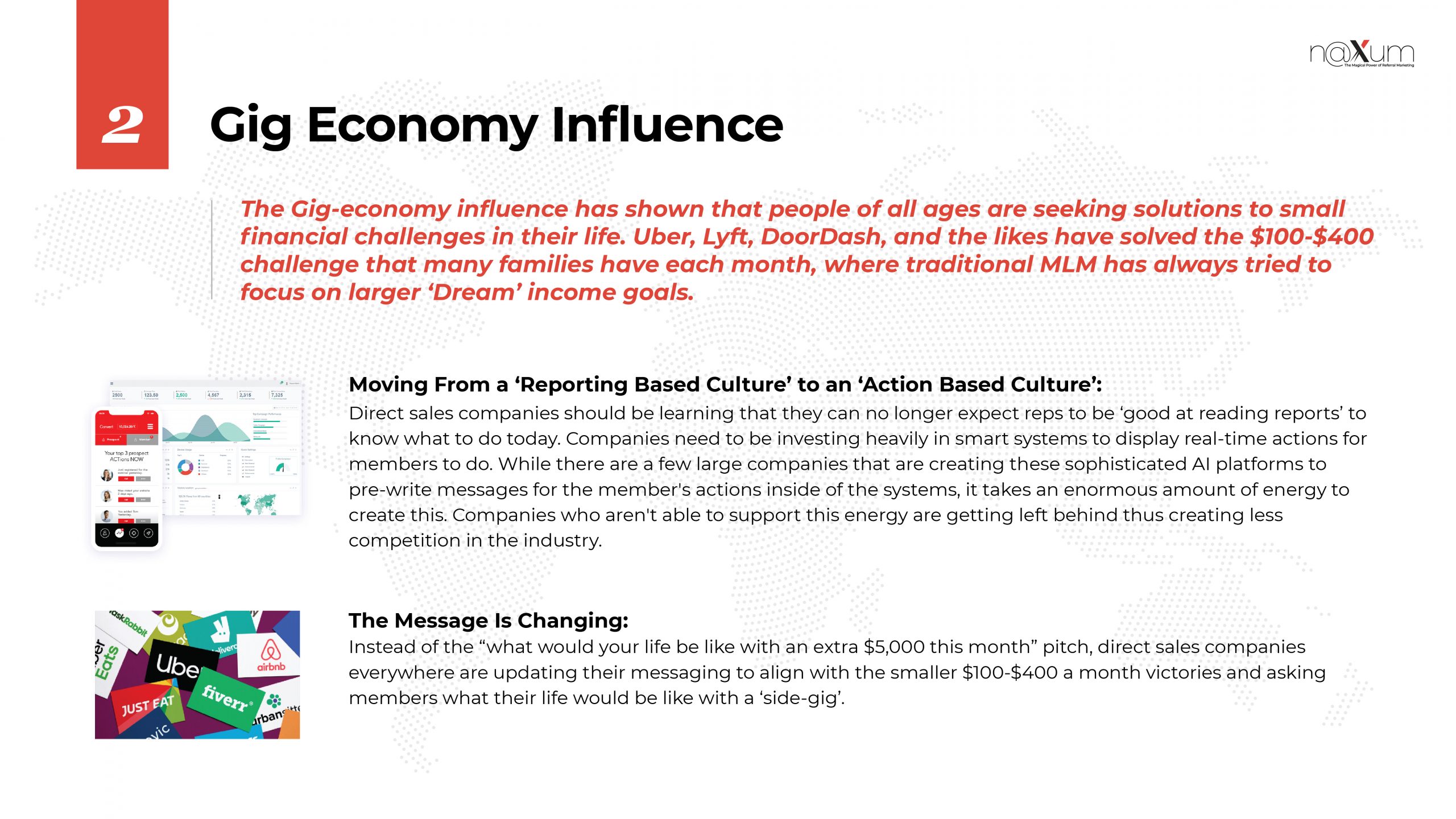 Moving From a 'Reporting Based Culture' to an 'Action Based Culture':
Direct sales companies should be learning that they can no longer expect reps to be 'good at reading reports' to know what to do today. Companies need to be investing heavily in smart systems to display real-time actions for members to do. While there are a few large companies that are creating these sophisticated AI platforms to pre-write messages for the member's actions inside of the systems, it takes an enormous amount of energy to create this. Companies that aren't able to support this energy are getting left behind thus creating less competition in the industry.
The Message Is Changing: 
Instead of the "what would your life be like with an extra $5,000 this month" pitch, direct sales companies everywhere are updating their messaging to align with the smaller $100-$400 a month victories and asking members what they life would be like with a 'side-gig'.
#3 Personal Growth, Cause-Based Companies
Ready to inspire your people into action? Well, Simon Sinek says you'd better 'Start With Why' and he's right! Not only are your members are looking for personal growth, but they are also seeking companies that have a cause they can align with. Companies today must be socially conscious. They have to give back. Earning a ton of profit isn't bad, but when the company is socially inept people will not join.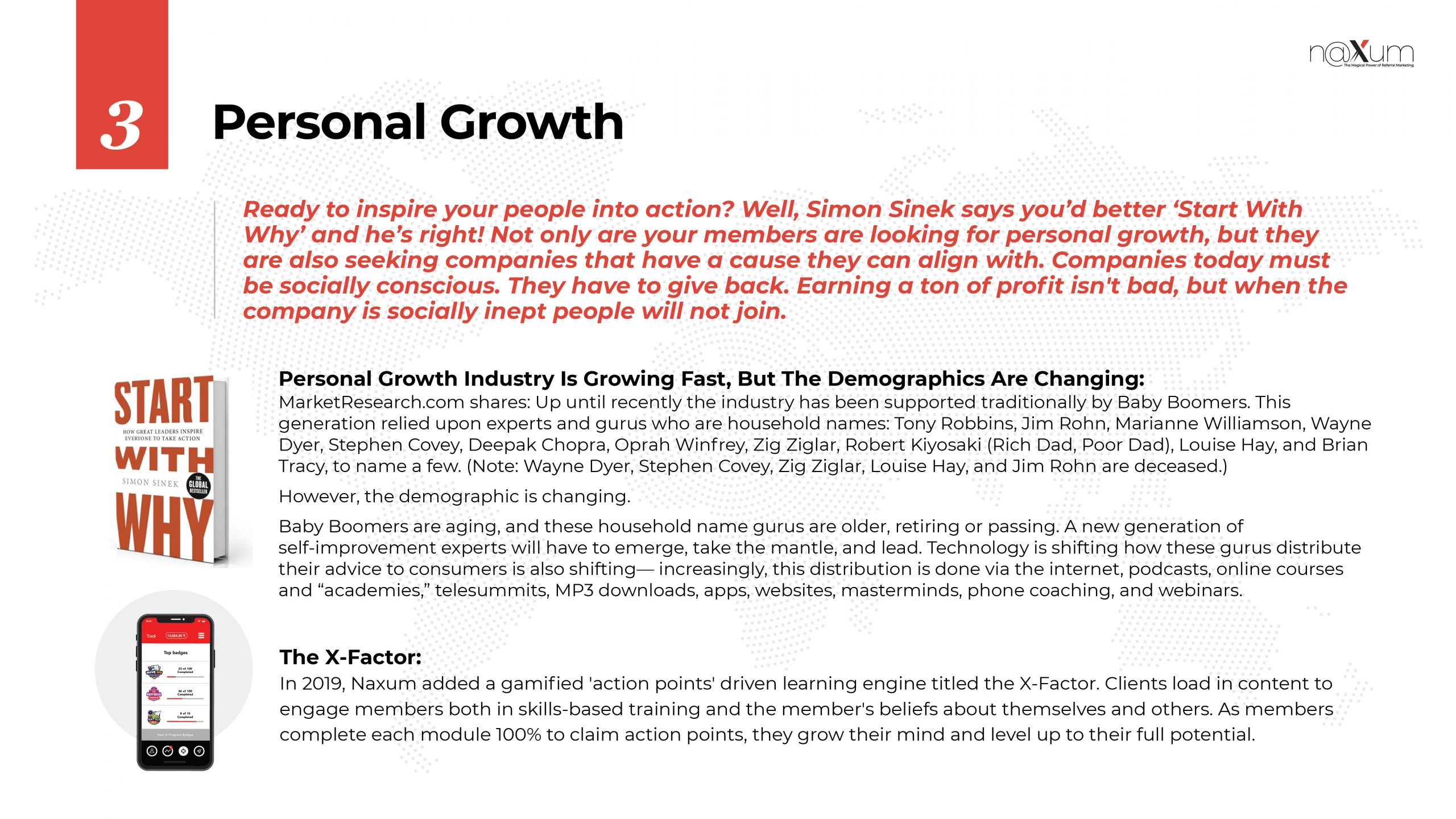 Personal Growth Industry Is Growing Fast, But The Demographics Are Changing:
MarketResearch.com shares: Up until recently the industry has been supported traditionally by Baby Boomers. This generation relied upon experts and gurus who are household names: Tony Robbins, Jim Rohn, Marianne Williamson, Wayne Dyer, Stephen Covey, Deepak Chopra, Oprah Winfrey, Zig Ziglar, Robert Kiyosaki (Rich Dad, Poor Dad), Louise Hay, and Brian Tracy, to name a few. (Note: Wayne Dyer, Stephen Covey, Zig Ziglar, Louise Hay, and Jim Rohn are deceased.)
However, the demographic is changing.
Baby Boomers are aging, and these household name gurus are older, retiring or passing. A new generation of self-improvement experts will have to emerge, take the mantle, and lead. Technology is shifting how these gurus distribute their advice to consumers is also shifting— increasingly, this distribution is done via the internet, podcasts, online courses and "academies," telesummits, MP3 downloads, apps, websites, masterminds, phone coaching, and webinars.
Giving Back:
Jobvite's 2019 study found that three-quarters of workers consider it important to work for a company that supports charitable causes or gives back to the community
#4 Engage For Good:
The Social Impact your company makes and stands for is now an influence to both your customer's decisions to buy from you and the affiliates' decision to promote you.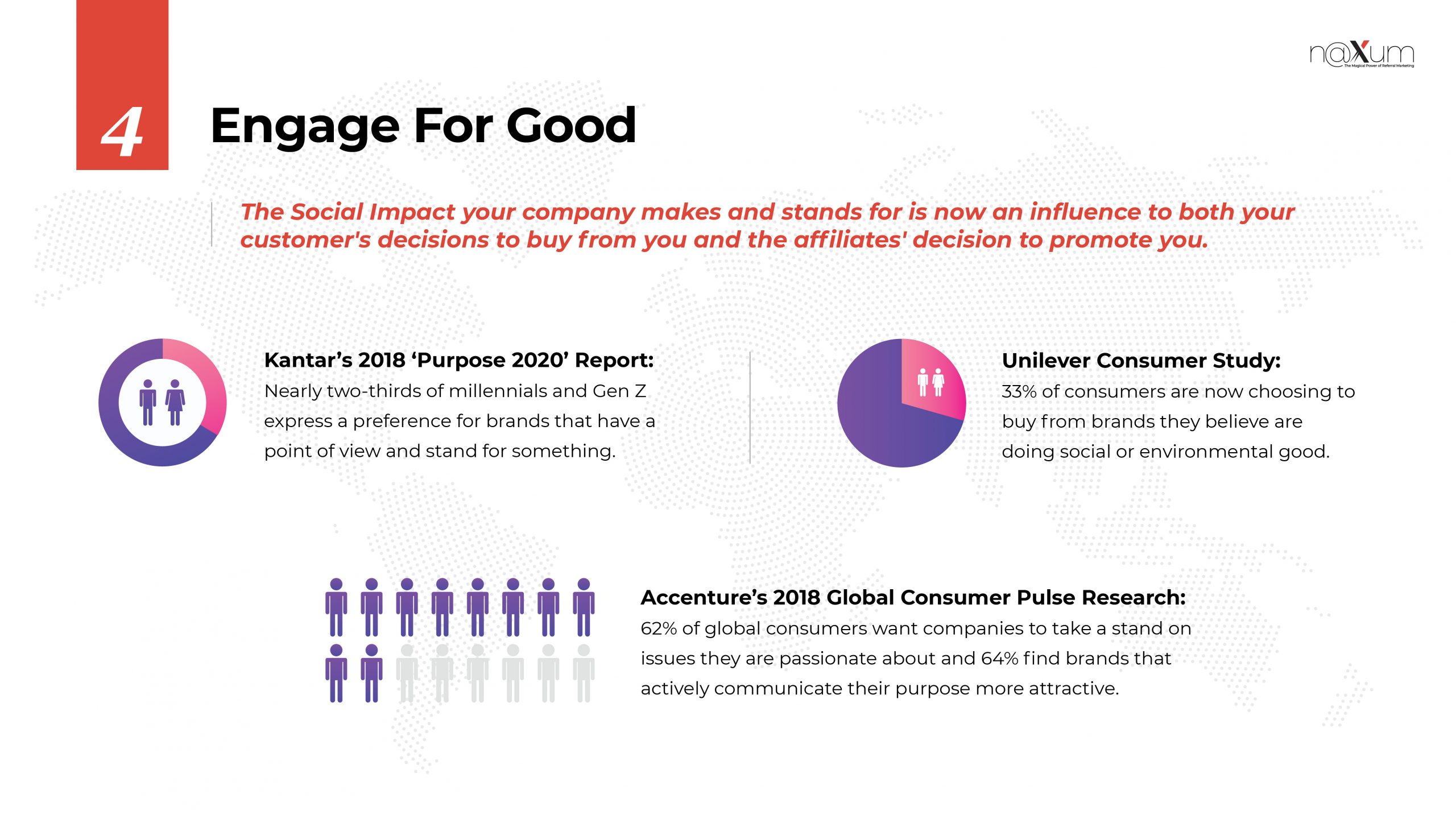 Nearly two-thirds of millennials and Gen Z express a preference for brands that have a point of view and stand for something. Kantar's 2018 'Purpose 2020' Report
33% of consumers are now choosing to buy from brands they believe are doing social or environmental good. Unilever Consumer Study
62% of global consumers want companies to take a stand on issues they are passionate about and 64% find brands that actively communicate their purpose more attractive. Accenture's 2018 Global Consumer Pulse Research
#5 Outsourcing All Non-Core Competencies, Tracking Insights
With the advent of total cloud computing and globalization, companies are able to, like never before, leverage existing technology versus building themselves.  By focusing on the 'insights' from the company's real data, leaner teams are creating more results with smaller budgets.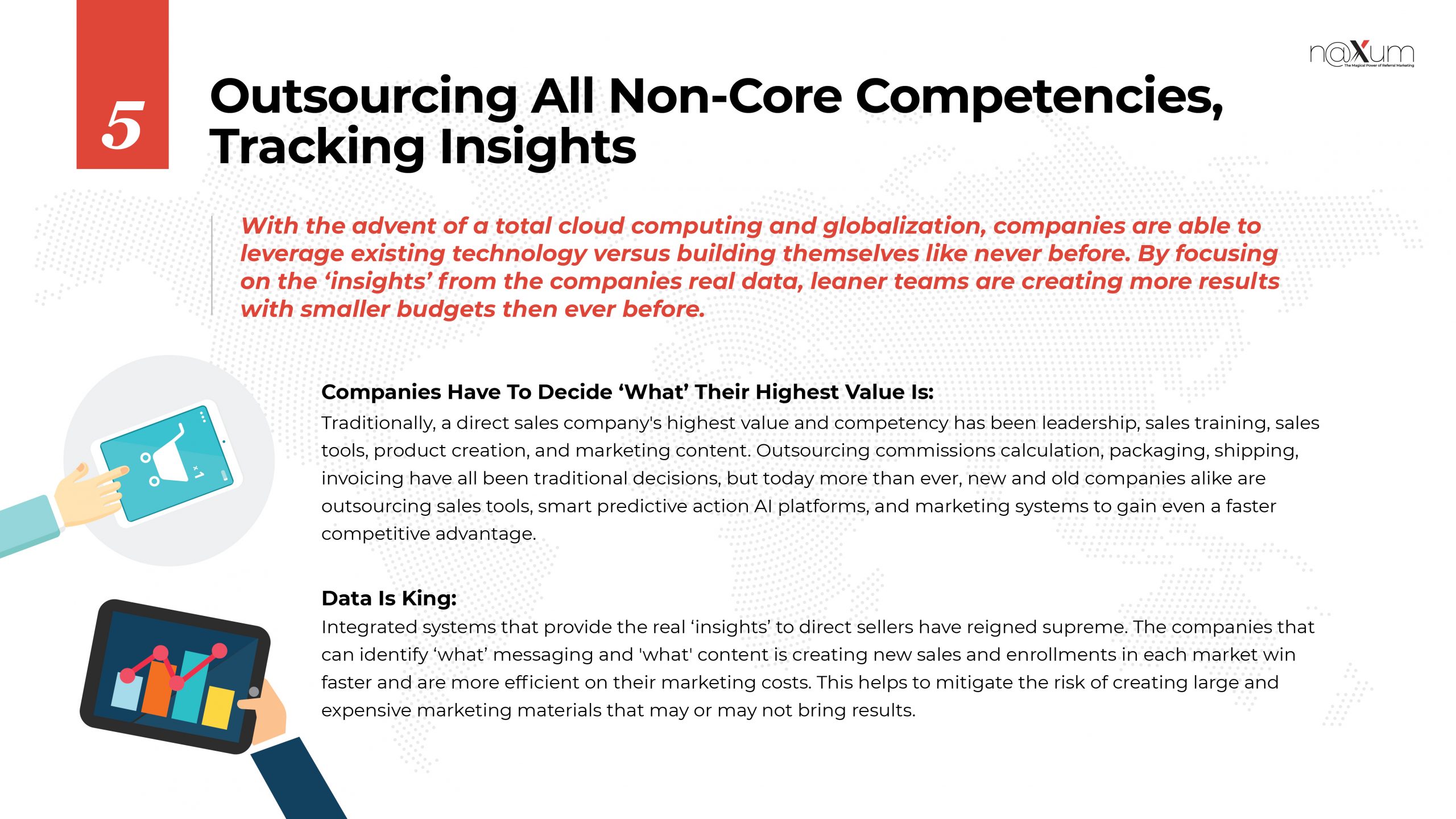 Companies Have To Decide 'What' Their Highest Value Is:
Traditionally, a direct sales company's highest value and competency has been leadership, sales training, sales tools, product creation, and marketing content. Outsourcing commissions calculation, packaging, shipping, invoicing have all been traditional decisions, but today more than ever, new and old companies alike are outsourcing sales tools, smart predictive action AI platforms, and marketing systems to gain even a faster competitive advantage.
Data Is King:
Integrated systems that provide the real 'insights' to direct sellers have reigned supreme. The companies that can identify 'what' messaging and 'what' content is creating new sales and enrollments in each market win faster and are more efficient on their marketing costs. This helps to mitigate the risk of creating large and expensive marketing materials that may or may not bring results.
#6 Consumer Expectations
Customer expectations for online brands are at an all-time high. UX design as a science and the simple convenience of fast, free shipping from retail giants like Amazon have created a high bar of consumer expectations.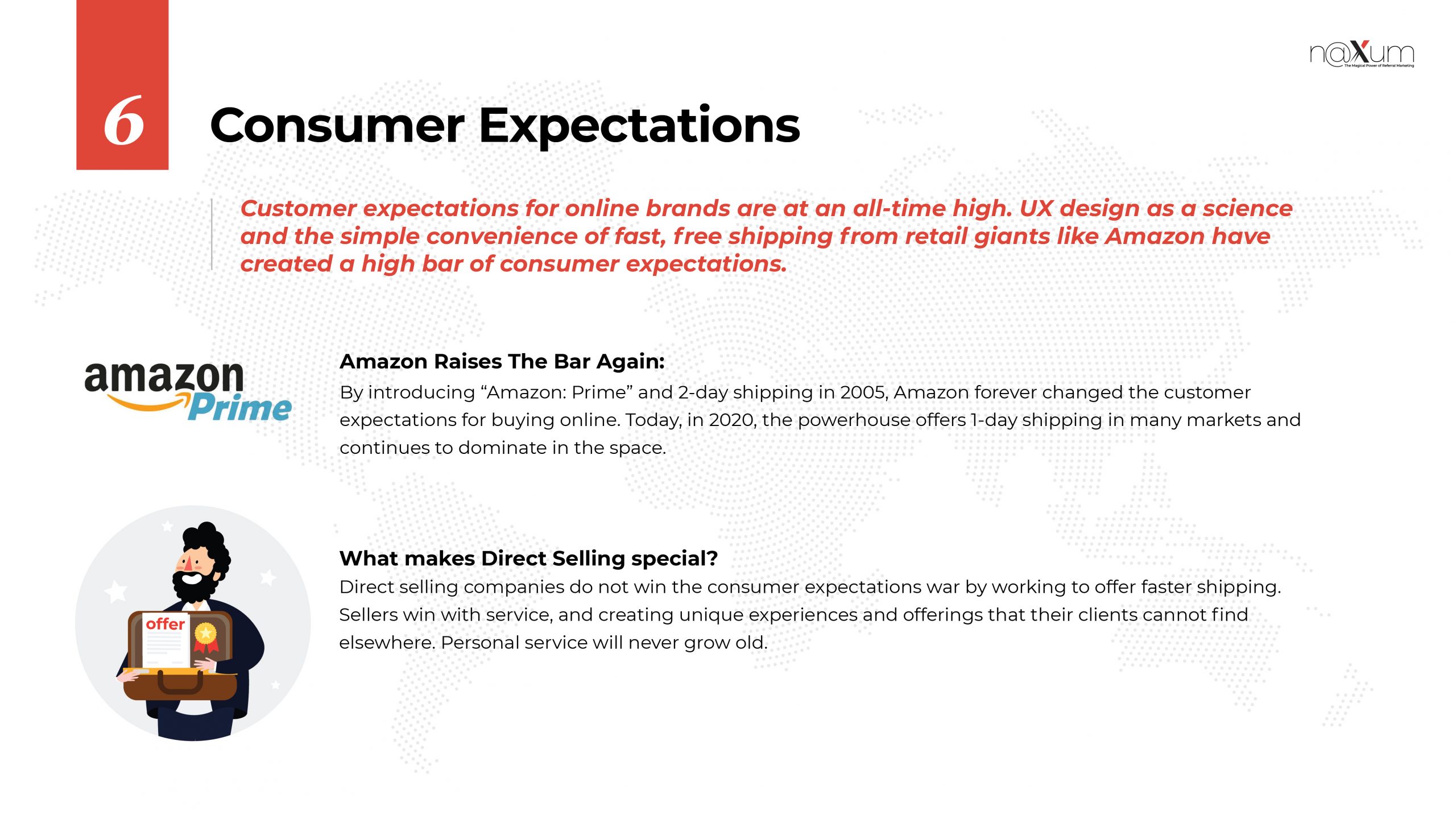 Amazon Raises The Bar Again:
By introducing "Amazon: Prime" and 2-day shipping in 2005, Amazon forever changed the customer expectations for buying online. Today, in 2020, the powerhouse offers 1-day shipping in many markets and continues to dominate in the space.
What makes direct selling special?
Direct selling companies do not win the consumer expectations war by working to offer faster shipping. Sellers win with service and creating unique experiences and offerings that their clients cannot find elsewhere. Personal service will never grow old.
—
Ben Dixon serves as the CEO at NaXum Online Marketing Services, LLC. At NaXum, We love to inspire and reward billions of business souls to gamify their life to share products and services they care deeply about so they experience the magical power of referral marketing. To learn more about the work their team does daily to change the direct selling world visit www.naxum.com