Youngevity Seeking To Enter CBD Market, While Its Coffee Business Continues To Grow
Sep. 24, 2018 10:53 PM ET
Summary
The latest coffee deal includes all 60,000 crew on 60 ships.
The company is exploring the hemp/CBD farming-to-finish business model.
It is already a derivative play on the CBD industry with retail products recently launched.
Youngevity (NASDAQ:YGYI) is a stock that I have been following for a few years now. The direct selling company has been expanding in size, scope, and global footprint. With revenues growing and improved EBITDA, it could be on the cusp of being a great direct selling play in and of itself. That being said, it has never been the direct selling side of Youngevity that attracted my focus. What attracted my attention was CLR Roasters, the coffee arm of Youngevity.
Over the past few years, CLR Roasters has been acquiring plantations, contracting additional supply, acquiring desirable qualifications, building out processing plants, expanding its roasting capability, increasing its packaging process, and building upon its retail, direct selling and private-label business. In simple terms, CLR Roasters is a true farm-to-coffee cup company complete with green coffee sales, roasted coffee sales, private-label work, its own retail brands and the ability to deliver on large contracts that make it a player to be reckoned with in the world of coffee. It is a business model that I found quite attractive.
This year, many of those early investments have begun to pay off in a big way. The company announced a substantial deal that carries a base value of $250 million. That deal will bring CLR Roasters up to a point where it contributes substantially to the overall revenue of Youngevity. Add anothermajor cruise line deal to the mix, and you can see why the CLR Roasters arm of Youngevity is poised to deliver some compelling numbers and drive even more improvement on EBITDA as well as the top and bottom lines.
Last month, Youngevity took a big step in a new direction by adding a line of CBD products to its arsenal. The products were launched at the company's annual convention last month and promptly sold out. It started its CBD venture with three retail products, but that appears to be just the beginning. This week, the company updated its investors deck, and the major change in that deck is the fact that Youngevity is telegraphing its intent to replicate its field-to-cup coffee business model in the hemp/CBD industry. This is potentially very compelling news.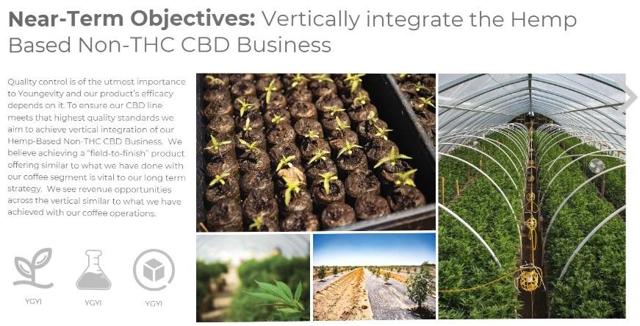 The CBD sector is currently the hottest ticket on Wall Street. Companies in the space enjoy market caps in the billions, and investors are looking for the next hemp/CBD train about to leave the station. One only needs to look at a story like Tilray (NASDAQ:TLRY) to see the level of enthusiasm. Tilray rose from $22 per share to over $170 per share in a matter of weeks. Investors who missed the train on that stock are now looking for the next cannabinoid play. Youngevity might be a great cannabinoid play to consider. If it is able to put a deal together that allows it to enter the hemp/CBD market in a sizable manner, the current stock price could see some impressive growth as crowds of investors look to get a piece of a company while it is still a great value.
Some investors may be nervous about the legal status of hemp, and that is certainly a reasonable concern. To that end, the 2018 Farm Bill includes provisions that would remove hemp as a controlled substance essentially make hemp growth legal in all 50 states. By extension, the sale of CBD oil would vastly benefit. CannaGreed recently estimated that the CBD business could rake in up to $22 billion in sales by 2022.
"We believe that blowing market sizes and growth figures out of proportion would do our customers and market a great disservice," said Brightfield's Senior Analyst Jamie Schau, "This year's hemp CBD forecasts might seem like a departure from that view, but I assure you they are not. These numbers reflect the substantial changes we anticipate will follow full federal legalization of hemp-derived CBD."
In my opinion, if Youngevity can replicate its coffee business model in the area of hemp and CBD, the potential growth of the equity price could be substantial orders of magnitude higher than what is currently projected. Now, let's inject some levity here. The CBD sector is hot and is poised to see massive growth, but there is a bit of an overexcitement in the space which cannot be ignored. That exuberance happens, but as long as an investor grasps that, they can play the stock smartly, build a position and make profits.
What is the most likely way for a company like Youngevity to enter the space in a big way? Through acquisitions. What does Youngevity have to offer that would attract an existing hemp farm and production facility? That answer is more complex. The company does not have an unlimited pool of cash to strike a deal. What it does have is stock and a fully compliant Nasdaq listing.
Currently, Youngevity has about 21 million shares outstanding and a market cap of about $100 million. It also has some balance sheet issues that will be a challenge, but a lot can be cured with great timing and entering a hot market. There is $7.75 million in deals and in convertible debt on the books, which investors need to consider. I suggest reading the last 10-Q to see these liabilities more closely. Youngevity has a modest cash position and is on the cusp of operating from a cash flow breakeven perspective. The added revenue from the $250 million coffee deal alone should drive continued CFBE status, given that the company lost just $656,000 in the last quarter.
From a risk perspective, a slowdown in direct selling growth is always a possibility, but muted from the overall fact that direct selling is growing and expanding rapidly. Coffee is a commodity, so continued depressed prices could make that segment less profitable. That being said, the big $250 million deal is already valued at the depressed prices and could grow if the price of coffee increases. Youngevity may have some capital spend in assuring the volume to fulfill the coffee business.
The heat of the CBD market is compelling to both Youngevity as well as any potential non-public hemp growing operation. Think about this for a moment - a hemp farm that wants to capitalize on the fact that the sector is hot may well want to go public in the fastest possible manner. In that vein, such a company may well be willing to take a tax-friendly, all-stock deal. In addition, that hemp operation will, in effect, accomplish some diversification. Carrying out a deal with Youngevity, that hemp operator would now have an investment in a growing direct selling company, as well as a rapidly growing and fully established coffer business.
Youngevity's unique experience in creating a field-to-cup coffee business could easily be applied to a farm-to-shelf hemp/CBD oil business. This is vertical integration that is very attractive. The simple fact of the matter is that a true win-win situation between a hemp operation and Youngevity is plausible. One might even argue that such a deal would create a win-win-win situation that includes investors. Here is how.
Let's assume that the Youngevity takes its outstanding share count up to 35 million in order to get a hemp/CBD deal done. That would be dilutive, but when we look at what is happening in the hemp sector, some dilution could be well worth it. As stated, companies in the hemp/CBD sector are enjoying market caps of over $1 billion. If Youngevity were to enter the CBD sector and get a $1 billion market cap, the stock price would be $28 per share with 35 million shares outstanding! That is substantially higher than the current price of around $5 per share. Even if the authorized shares went all the way to 50 million, the stock price would be $20 per share on a $1 billion market cap.
The bottom line here is simple. Youngevity has been delivering improved EBITDA all year, and the numbers on the financials are coming into line. The coffee business has inked some high-value deals that will improve these metrics. If the company can enter the hemp/CBD market in a full-fledged manner, this stock would likely see a nice run on the news. Youngevity is out pounding the pavement on Wall Street in the next several weeks, and appears intent on letting it be known that it is seriously making moves in the CBD sector via vertical integration. The stock is a speculative play, and betting on the hemp/CBD sector is also speculative. That being said, the potential rewards are very compelling, while the downside risk is muted given the existing strength of the company. Stay tuned!
I wrote this article myself, and it expresses my own opinions. I am not receiving compensation for it (other than from Seeking Alpha). I have no business relationship with any company whose stock is mentioned in this article.
Spencer Osborne