The market cap is mostly cash, producing a sales multiple of smaller than 0.1, which is something one sees in companies in serious financial problems.
The company isn't in serious financial problems; it pays a dividend providing a yield of almost 12%.
And there are the first signs that growth is returning.
Mannatech (MTEX) is a multi-level marketing company selling health products. We argued in a previous article that if the company could manage to restart growth again, the shares could be off to the races.
Well, there are the first signs of that, despite rather ugly headline figures which were marred by a big ($3.3M, but one-off) tax bill, producing an effective tax rate of 167.8% in the quarter leading to a GAAP loss of $1.7M (or $0.69 per share).
That tax induced loss is a one off, operating income actually increased quite a bit, from $0.7M last year to $1.7M in Q3.
Which is good news as the shares are amazingly cheap.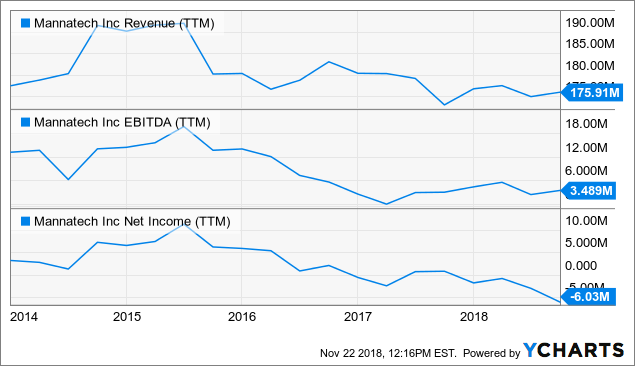 MTEX Revenue (TTM) data by YCharts
You see that there hasn't really been any revenue growth in the past years, but for the first time since 5 years, that seems to have changed:
Q3 Revenues increased by 2.4% to $43M (+2.9% on a constant currency basis).

The company attracted 4,000 independent associate and preferred customers over the past 12 months.

The average order size increased by 6.1% or $11 (y/y) to $194.
Revenue growth comes basically from the Asia Pacific, which grew 9% to $26.6M. Management adjudicated this increase to the release of their new product Ambrotose LIFE in Korea and Hong Kong.
Given the fact that the company only recently moved into China (via an e-commerce site), there could be more growth around the corner when they start selling there.
Margins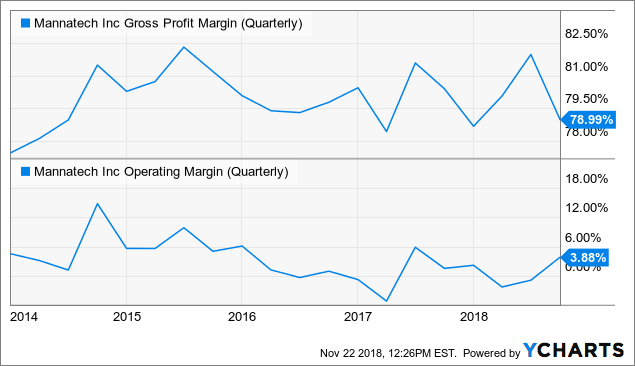 MTEX Gross Profit Margin (Quarterly) data by YCharts
Operating margins are actually improving as they're managing to reduce operating cost. But at less than 4% they are not great, needless to say. Operating income did increase quite a bit y/y from $0.7M last year to $1.7M in Q3.
Cash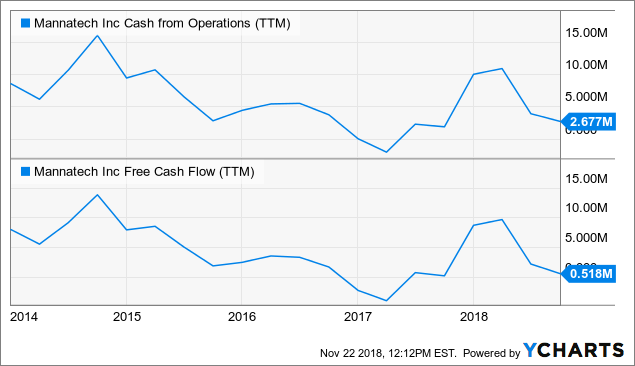 MTEX Cash from Operations (TTM) data by YCharts
The company has embarked on buying back shares. It bought back shares for $7.4M in a tender offer and open market purchases in Q3. As a result, the number of outstanding shares has fallen by 12.5%: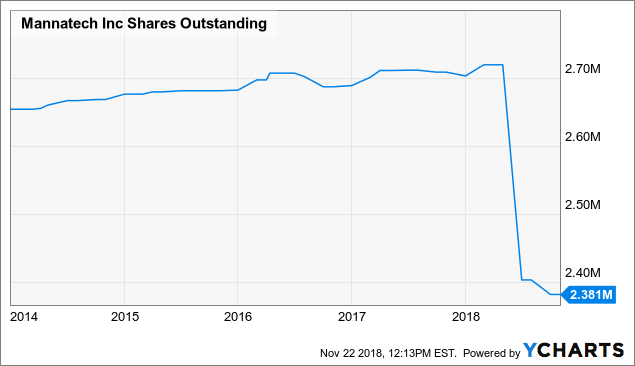 MTEX Shares Outstanding data by YCharts
The company also pays a dividend of $0.50 per quarter totaling $1.9M, so far producing a quite enticing 11.8 yield.
The dividend, tax and share buyback did reduce the cash holdings quite a bit (31.9% or $12M) to $25.7M.
But here is the catch, that is $10.80 per share. In other words, the company minus cash (or enterprise value) is $14.6M or $6.14 per share.
Valuation
The shares are remarkably cheap. The revenue of the last four quarters was $176M while the enterprise value is a paltry $14.6M or an unheard of EV/S of 0.08. We can't remember ever having seen anything like this, these are multiples that are normally reserved for companies in their last days of existence before keeling over.
Management agrees, and not just with words. One thing which is quite rare is that insider transactions show only buys, from FinViz:

We look at lots of companies, and usually we see long lists of insider sales, this is a rare vote of confidence from its own management.
Conclusion
We think this company is simply under most radar screens, there are, for instance, no analysts following this stock. Yes, neither its growth nor its profitability are very impressive and its products and MLM structure are not everybody's cup of tea.
But the company has a baffling valuation of just 0.08 times sales, and this for a company whose shares pay a nearly 12% dividend yield. The company has reduced its already paltry share count by a further 12.5%, and given its cash hoard, it could do this again. Cash flow is positive (although marred by a one-off outsized tax bill in Q3), so we think the dividend is sustainable.
Disclosure: I/we have no positions in any stocks mentioned, but may initiate a long position in MTEX over the next 72 hours.
I wrote this article myself, and it expresses my own opinions. I am not receiving compensation for it (other than from Seeking Alpha). I have no business relationship with any company whose stock is mentioned in this article.
Editor's Note: This article covers one or more microcap stocks. Please be aware of the risks associated with these stocks.