DSA Fall Conference 2018 Empowers Attendees to Sharpen their Competitive Edge: Event Celebrates Direct Selling Independent Contractors Who Are America's Original Entrepreneurs
DSA Fall Conference 2018 assembled more than 300 direct selling leaders in Arlington, VA to share the latest innovations, ideas and insights that can help them gain increasingly competitive ground in today's shifting market climate.
"Creativity is the response to uncertainty, and DSA Fall Conference 2018 was a look at where direct selling is today, and what we can do to ensure that direct selling's independent contractors and companies have everything they need to compete in today's shifting market climate," explained John Fleming, DSA Hall of Fame and DSEF Circle of Honor recipient.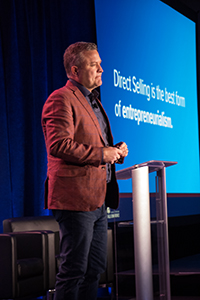 A General Session CEO Keynote by LifeVantage Corporation President and Chief Executive Office Darren Jensen discussed emerging technology that companies must embrace if they are to become next-generation direct selling enterprises. Together with a General Session Keynote by futurist and best-selling author Mike Walsh, attendees gained strategic insights through workshops focused on marketing, sales, communications, technology, operations, legal and taxation issues to use in fine-tuning their plans for 2019 and beyond.
U.S. Secretary of Labor Alexander Acosta praised the contributions of direct sellers to the fabric of the American economy. He also stated the U.S. Department of Labor helps Americans like direct sellers by ensuring a clear standards and reduction of barriers in regulatory environment to ensure that growth and innovation can flourish.
Marking a critical moment for the direct selling channel, Lois Greisman, Associate Director of the Division of Marketing Practices, Federal Trade Commission (FTC) lauded the establishment of the Direct Selling Self-Regulatory Council (DS-SRC).
In addition to providing an overview of the January 2018 FTC Business Guidance Concerning Multi-Level Marketing, Associate Director Greisman characterized the launch of the DS-SRC as a "really terrific step" hailing the program's framework, transparency and accountability measures. She noted that DSA members are "perfectly situated to get it right and promote consumer protection" and encourage "competition in the marketplace." Ms. Greisman underscored her belief that self-regulation would benefit all direct selling companies, adding that she looks forward to seeing the program in action.
"Direct selling has the responsibility to raise the bar to protect consumers, and will help the channel maintain the sharpest competitive edge for the independent contractors who have been empowered to build their businesses on their own terms," DSA President Joseph N. Mariano stated.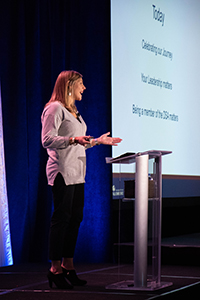 "Together we are embarking on a journey that will ensure that direct selling's reputation reflects the values that we all embrace," President and Chief Executive Officer of Thirty-One Gifts Cindy Monroe stated. "We as a community value our shared responsibility for living up to the highest ethical standards, and together we fight for our reputation to represent who we are at our core. We are a part of something great, and direct selling's new self-regulation program will protect consumers, empower distributors and help our brands shine more brightly than ever before."
Attendees gained valuable insights on sales and marketing strategies, leveraging technology to fuel growth and brand value, independent contractor classification issues, recent legal and regulatory trends, communications, and, industry self-regulation.