Summary
After locking in solid gains last year, I revisit Tupperware and assess whether it might be a good buy once again.
In this article, I discuss what I liked about TUP back in early 2017 and what I like about it now.
I need to do additional due diligence on the name before pulling the trigger, but the early read appears to be favorable.
This idea was discussed in more depth with members of my private investing community, Storm-Resistant Growth .
One of my most profitable plays last year was, surprisingly, kitchenware maker Tupperware (TUP). A buy-on-weakness opportunity that I shared exclusively with my Storm-Resistant Growth community early last year, the stock shot up 32% in the first four months of 2017 (see graph below). I was lucky to buy shares near the 52-week low and sell at a two-year peak. Since then, I disconnected from the stock and have not followed up on what turned out to be a 14% share price decline between late April 2017 and today.
Now, I revisit Tupperware and assess whether it might be a good buy once again.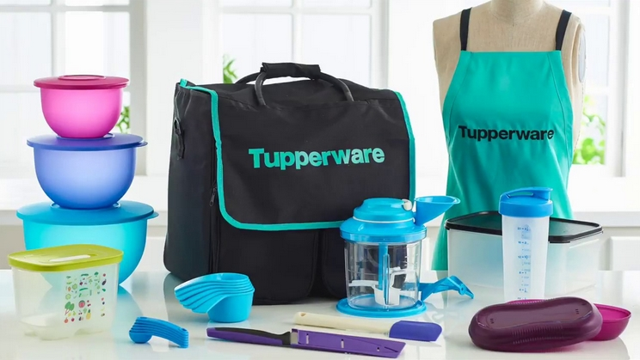 Credit: Setting The World To Rights
What I liked about TUP then, what I like now
At the core of the TUP investment thesis was my belief that the headwinds faced by the company, which had sent the stock sharply down in 2016, were short term in nature. The stock price weakness, in my view, was more reflective of unfavorable FX trends pressuring revenues and spoke little about the company's fundamentals. The company was already expected to generate positive sales and earnings growth once again, but the stock was valued at rock-bottom multiples: forward P/E at a very low 12.1x, price/cash flow at 9.7x and PEG at 1.1x.

Today, I see Tupperware making progress on its restructuring program, which has resulted in a more robust international business despite pockets of weakness in parts of Asia and Europe. Brazil and China continue to chug along, leading the rest of the world in growing revenues in the low-single digits. Headwinds from unfavorable regulatory environment in India and Indonesia may linger, but I believe the company's portfolio is geographically diversified enough to balance out the pros and cons. At a higher level and expanding my time horizon, I believe Tupperware could benefit from workforce trends towards entrepreneurship, income diversification and a decline in formal employment arrangements to continue to grow its current network of global sellers.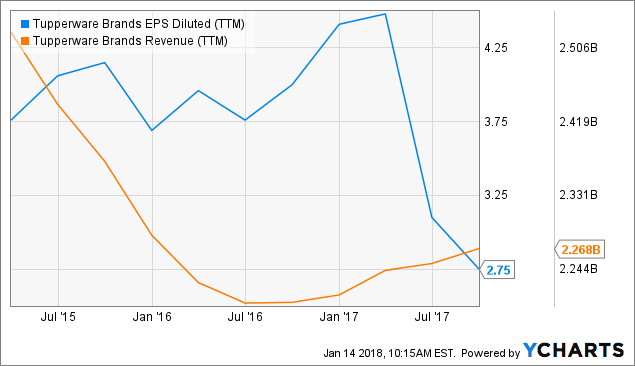 TUP EPS Diluted (TTM) data by YCharts
Protecting the downside, TUP pays a dividend that yields over 4%, which should reward shareholders if or while share prices fail to pick up the pace. More importantly than the yield itself and despite lack of growth in total dividends paid since 2015, Tupperware is a solid generator of FCF (free cash flow). Dividend coverage currently sits at 92% on a trailing twelve-month basis, enough to sustain the payments particularly as earnings are projected to grow over the next few years at a low double-digit pace. At these levels, I believe the dividend yield could act as a floor for the stock and prevent much slippage.
On valuation (see below), the stock once again seems to be trading at conservative multiples of 12.6x and 1.1x on a forward P/E and PEG basis, respectively, that are about in line with the same metrics this time last year - vs. 15.5x P/E and 1.5x PEG by the time I sold in April and before the share price decline that ensued. The stock has run about 10% over the past two months, twice as much as the broad consumer staples sector's (XLP) 5%. Yet, I believe those considering buying the stock today have not missed out on significant upside.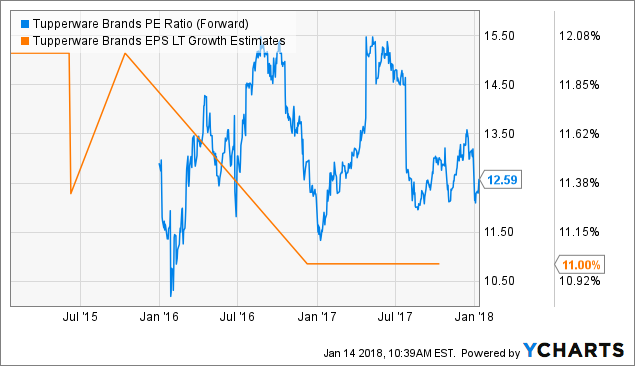 TUP PE Ratio (Forward) data by YCharts
Final words on Tupperware
It looks like TUP might once again be a good buy, after enduring a sharp dip and some volatility in 2017. In addition to the observations that I have made above, the stock could be a defensive play should macroeconomic factors deteriorate - for example, TUP performed relatively well during the 2008 recession, dipping only as much as the diversified broad market but bouncing back much more strongly in 2009.
I would need to do additional due diligence on the name before pulling the trigger, but the early read appears to be favorable. For now, I will keep TUP on my radar screen.
Note from the author: If you have enjoyed this article and would like to receive real-time alerts on future ones, please follow D.M. Martins Research. To do so, scroll up to the top of this screen and click on the orange "Follow" button next to the header, making sure that the "Get email alerts" box remains checked. Thanks for reading.
Disclosure: I/we have no positions in any stocks mentioned, and no plans to initiate any positions within the next 72 hours.
I wrote this article myself, and it expresses my own opinions. I am not receiving compensation for it (other than from Seeking Alpha). I have no business relationship with any company whose stock is mentioned in this article.