Summary
Nature's Sunshine, Inc. manufactures health and wellness products and markets them globally through independent sellers.
The company has an opportunity to increase its presence by capitalizing on health and wellness trends and recruiting distributors from the middle class.
Our target share price of $10.00 was calculated with a 50% weight on our 5-year DCF and a 50% weight on our comparable company analysis.
Analyst: Amy Zeng
Nature's Sunshine
Nature's Sunshine, Inc. (NATR) manufactures health and wellness products and markets them globally through independent sellers. Being established in 1972, the company is one of the first direct sellers of health and wellness products, yet it has still been unable to establish itself as one of the major players in the direct selling industry. The current supplement and direct selling industries are both heavily saturated and growing slowly, leaving little room for competition. Only few companies can succeed, and in these specific industries, it is usually those who are larger and have stronger brand recognition. However, the company has an opportunity to increase its presence by capitalizing on health and wellness trends and recruiting distributors from the middle class, which investors should pay attention to.
Company Overview
Nature's Sunshine is involved in the manufacturing and global multi-level marketing of over 700 unique health and personal care products ranging from weight management shakes to essential oils. The company was founded in 1972 being the first to encapsulate herbal medicines to make them more palate-friendly. The company is represented by more than 500,000 independent distributors in the Americas, Europe, Asia, and Oceania. Distributors work towards commissions or "volume incentives" which are awarded for their sales and the sales of the distributors they recruit. The company reports its sales based on four geographic segments: NSP Americas; NSP Russia, Central and Eastern Europe; Synergy WorldWide; and NSP China.

Source: Nature's Sunshine Blog
Products
Nature's Sunshine's products are classified into six different groups: general health, immune, cardiovascular, digestive, personal care, and weight management. The company spends on research and development to create new products in order to differentiate itself from competing health and wellness companies. However, few of the products are patent pending, leaving the rest of the products unprotected with a patent. The company claims its products' competitive advantage to be medicinal potency and advancement, engineered through their research and development.
Research And Development
Nature's Sunshine conducts its research and development at its Hughes Centre for Research and Innovation, located at its main facility in Spanish Forks, Utah. R&D spending is used for the research of natural herbs and how they can treated and combined with other ingredients to be potent and used by consumers. The company reported 3.4MM, 3.2MM, 2.8MM, and 2.5MM in R&D spending in FY 2017, 2016, 2015, and 2014 respectively. To align with management's plans, R&D spending is projected to continue growing at ~0.07% of total revenues to 3.8MM, 4.2MM, and 4.7MM in the next 3 fiscal years. These growth assumptions support the company's plans to continue adding new products to its inventory and improve the effectiveness of its current inventory. The development of new products is crucial to Nature's Sunshine's success in the competitive health supplement industry as it helps the company differentiate itself.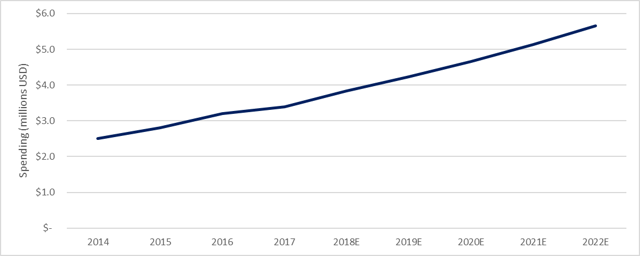 Source: Company Filings
Manufacturing
Approximately 80% of products are manufactured at the Spanish Forks, Utah facility. The company ensures the quality of their raw materials by globally sourcing from third-party farmers who are frequently audited for product purity and environmentally-friendly farming. The company contracts with suppliers to prevent ingredient shortage to fulfill manufacturing demands. Alternatively, backup sources of raw materials can be easily obtained. Nature's Sunshine has also been audited by NSF International and awarded the NSF Good Manufacturing Certification for satisfying all criteria for manufacturing facility and procedures.
Marketing And Distribution
The company markets and distributes its products through its website, Amazon (NASDAQ:AMZN), and over 500,000 independent distributors globally. Independent distributors pay a $40 membership fee to join and the fee is paid every year to renew the membership. Membership entitles distributors to discounts on products of at least 10% and other benefits such as health education. As members sell more products and recruit other members, they have the opportunity to move up the ranks into levels of management, each with its own benefits and policies. The products on the company's website are priced noticeably higher than similar products sold by its peers, partially due to price increases in NSP North America. Independent distributors are also able to price their own inventory to any price they see fit, further driving prices up. The graph below shows the prices of Nature's Sunshine's best selling products: AnxiousLess, Super Omega 3, Carbo Grabbers with Chromium, Aloe Vera Gel, Immune Stimulator, and Probiotic Eleven. Respectively, each receives their own classifications: general health, cardiovascular, weight management, personal care, immune, and digestive. The prices of these Nature's Sunshine's products are compared to the prices of equivalent products produced by its peers. Prices in general health, cardiovascular, weight management, immune, and digestive are adjusted to reflect price for 30 days of use, with recommended dosage taken into consideration. The prices recorded for the personal care product comparison reflects price per 8 fl.oz. as usage amount is subject to user discretion.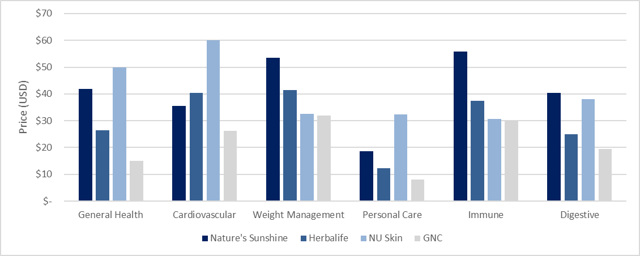 Sources: Nature's Sunshine, Herbalife, NU Skin, and GNC
Nature's Sunshine's prices fall on the higher end when compared to its competitors. There is also little to no difference in the efficacy of the products, which may encourage consumers to substitute towards more affordable options.
Customers
Nature's Sunshine markets and sells its products to its managers, independent distributors, and customers. Traditionally, the largest consumers of supplements were those aged 50 and over. However, recent years have seen an increase in demand of health supplements from all ages due to health trends spread by media and increases in reports of diet-related health problems.
Revenues And Costs
Despite only entering Asian markets in 2012, the company has seen impressive sales growth and potential for great future earnings. In 2012, the company partnered with Chinese pharmaceutical, Fosun Pharma, allowing Nature's Sunshine to test the market with its products before officially entering. Nature's Sunshine received its direct selling license in Q2 2017, resulting in revenue increase from 14.4 million in FY 2016 to 20 million in FY 2017, representing a 38% increase YoY in NSP China. Management believes NSP China is a great opportunity for business and is currently investing in capital in anticipation of further growth in the segment. NSP China made up only 6% of total global sales in 2017, so it would be a while before its successes make a significant impact on revenues.
NSP Americas' revenues have been declining for the past few years due to declining sales and high operating costs. In April 2017, the company invested in Oracle ERP, a cloud-based operating software to consolidate data and manage operations, deducting amortization from NSP Americas revenues. In addition, the initial complications with the system resulted in unexpected disruptions to customer service by increasing call centre wait times and causing difficulties with the online ordering system. Management reported resolution of the matter in Q1 2018 and reported a steadying of revenue decline.
Synergy Worldwide reported overall increase in revenues. Synergy North America and Europe reported losses but were offset by strong growth in Synergy Asia Pacific, primarily in South Korea and Japan. NSP Russia, Central, and Eastern Europe also reported increases in revenues.
Industry Analysis
Potential For Increased Volume Of Distributors
Revenues in the direct selling industry rely heavily on the number of active independent distributors. The independent distributor demographic historically has been heavily dominated by those 55 and over. The aging world demographic poses as an opportunity for the industry to grow. In addition, the ongoing media-spread trend in health and wellness is encouraging millennials, primarily in the middle-income population, to join the direct selling industry. Middle income is defined as those who earn between 75% to 125% of the median income in each country.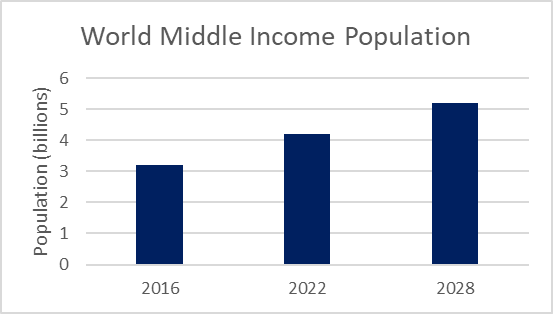 Source: United Nations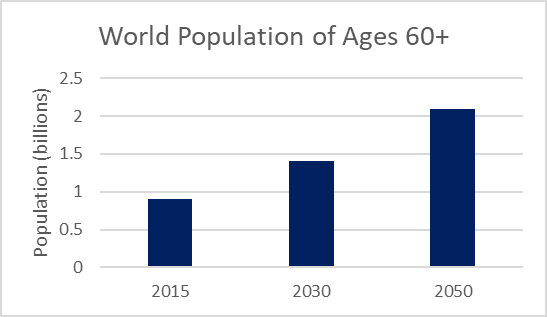 Source: Brookings
Increase in Disposable Income in North America
Health and wellness spending is fueled by disposable income. Disposable income is expected to be on the rise in North America due to a rapid growth in wages due to lowering of unemployment rates. In the United States, new tax policies including the recent cut in corporate taxes from 30% to 21% is expected to increase overall increase in disposable income. With NSP Americas generating ~50% of total revenues, this increase in spending may have significant impact.
Increase in Physical Activity in North America
Another primary driver for health and wellness products is physical activity. Those who lead active lifestyles usually supplement their diet with nutrition products. Physical activity levels are projected to increase in the upcoming years due to a more health-conscious public influenced by media and popular culture.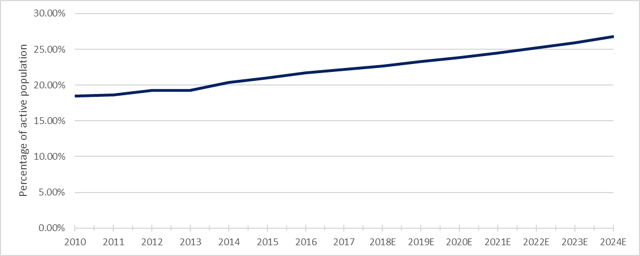 Source: IBISWorld
Shareholder Base and Liquidity
Ownership Summary
Institutional holdings make up the majority of Nature's Sunshine's stock ownership at 75.21%.
Shareholder

Position (mm)

Percent

Outstanding

Latest Change (01/04/18)

Filing Date

Shanghai Fosun Pharmaceutical

2.85

15.1

0

02-20-17

Fosun International Holdings Ltd.

2.85

15.1

0

09-30-17

Red Mountain Capital Mgmt Inc.

2.51

13.29

0

09-30-17

Wynnefield Capital Inc.

2.19

11.6

8749

11-20-17

Prescott Group Capital Mgmt

2

10.58

0

09-30-17

Paradigm Capital Management

0.9

4.74

-103,961

09-30-17

First Wilshire Securities Mngt

0.71

3.73

-15,675

09-30-17

Hughes Eugene L

0.65

3.45

-2,000

12-06-17

Nantahala Capital Management

0.51

2.7

197,175

09-30-17

BlackRock

0.49

2.62

8,176

09-30-17

Total Identified Investors

15.66

82.91%
Source: Bloomberg
Liquidity
Nature's Sunshine's average daily trading volume is relatively low at 17,047 compared to companies of similar market capitalizations.

Source: Yahoo Finance
Valuation
Discounted Cash Flow Analysis
Capex Assumptions
In the past four years, capex has been, on average, 4.7% of total revenue. The company's capex spending has been decreasing YoY from 3.2% to 1.6% of total revenues from FY 2016 to FY 2017 respectively. The company went through a period of investment in the few years. In the next few years, it is expected that capex will stabilize at ~1.2% of total revenues.
Weighted Average Cost of Capital
Our DCF has determined a weighted average cost of capital (OTC:WACC) of 8.2% which is realistic considering the risks. This was calculated using the 2.5% yield on the U.S. Treasury bill and a 7.6% market risk premium rate. We applied a 1.26 beta from Bloomberg.
Dividends
Dividends paid have been consistent at $0.10 per common share each quarter as stated on the company's 10Q. There is no forecasted deviation from this trend and management has not expressed any plans to change dividend amounts.
Comparable Company Analysis
Nature's Sunshine is categorized in the direct selling industry due to its distinct business model and operations. However, Nature's Sunshine also competes closely with retail companies that sell health and wellness products. The comparable company valuation was conducted with the following companies with similar business models and inventory:
Herbalife Ltd.
Nu Skin Enterprises, Inc.
USANA Health Sciences, Inc.
GNC Holdings Inc.
Herbalife Ltd. (NYSE: HLF)
Herbalife Ltd. Is a global manufacturer and multi-level marketer of health and lifestyle supplements.
Nu Skin Enterprises, Inc. (NYSE: NUS)
Nu Skin is a manufacturer and direct seller of personal care products and nutritional supplements.
USANA Health Sciences, Inc. (NYSE: USNA)
USANA uses scientific research to manufacturer health, wellness, and personal care products.
GNC Holdings Inc. (NYSE: GNC)
GNC Holdings is a global retailer of health, sport, diet, and nutrition products.
Valuation Summary
We concluded an implied share price of $10.00. This was calculated with a 25% weight on the DCF perpetuity growth method, 25% on the DCF terminal EV/EBITDA multiple, and 50% on the EV/EBITDA multiple from the comparable company analysis.
Risks
Changes to Government Policies and Global Events
Nature's Sunshine is subject to the regulations specific to each country it operates in. Any violations of the rules and regulations may force the company to withdraw products or business until changes have been made to abide by them. In addition, legal actions on other direct selling companies may set precedence for Nature's Sunshine to follow. Because Nature's Sunshine operates globally, its business is affected by world events. Depending on the severity and impact of the events, Nature's Sunshine may need to make changes to its operational strategy to adapt to the environment.
Distributor Retention
The number of distributors directly correlates with sales revenue generated. A large part of Nature's Sunshine's revenues in some geographical segments are reliant on a few main networks of distributors. Sales would have adverse impact should any of the key sales networks leave the business. Factors like negative publicity, economic conditions, and changes to distributor compensation may also affect the company's ability to recruit and retain its independent distributors.
Manufacturing Risk
80% of all sold products are manufactured at the main facility in Spanish Forks, Utah. There will be severe financial consequences if the facility is exposed to damages or interruptions. These may be caused by natural disasters, terrorism, or equipment failures.
Recommendation
Nature's Sunshine operates in a highly saturated direct selling industry. The company's largest operating segment by revenues, NSP Americas, has been reporting declining revenue for years; however, there is still potential for Synergy World Wide and NSP China to offset this loss. At present time, there is no definite indication of the results of the company's expansion into China or the total effect of the new Oracle ERT system. With a target price of $10.00, the 6.95% upside from the current share price of $9.35 gives Nature's Sunshine a hold rating.
Valuation Appendices
Discounted Cash Flow Analysis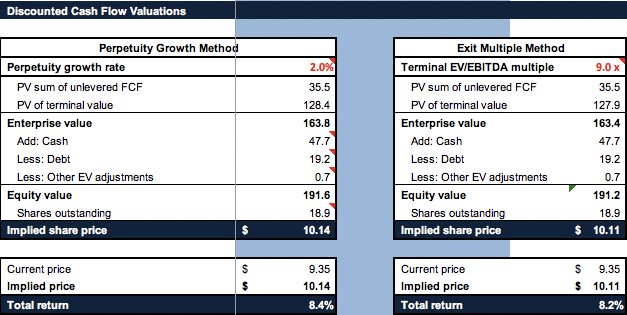 Comparable Company Analysis

Disclosure: I/we have no positions in any stocks mentioned, and no plans to initiate any positions within the next 72 hours.
I wrote this article myself, and it expresses my