Summary
The battle of two Wall Street titans that raged since 2013 over Herbalife is over. Carl Icahn indisputably holds the flag of victory, having doubled his investment.
Bill Ackman, Icahn's foe, nurses the wounds of a $1bn short bet that went to zero. Ackman's Pershing Square exited its HLF short definitively in the December quarter.
Now that the titans' egos have been satiated, the playing field will shift back to fundamentals. And those fundamentals paint a very bleak future.
But, is the iconic showdown really over? Icahn still has to exit his gigantic and outsized HLF investment, a 24% stake in Icahn Enterprises. Not easy!
Hope of taking it private dissolved as Icahn made his gambit in the end game; he slashed his stake in the just-completed HLF Auction. Sell before the Icahn deluge.
Any observer of financial markets would be hard-pressed not to have some notion of this billionaire public showdown between two Wall St legends over Herbalife (NYSE:HLF).
The Icahn-Ackman fight happened on Jan. 25, 2013, while Ackman was being interviewed by telephone by Scott Wapner. Ackman was responding to attacks by Icahn the previous day over Ackman's claims that Herbalife was "a well-managed pyramid scheme."

Icahn called in to the show, saying "Ackman is a liar" and that he had "one of the worst reputations on Wall Street."

"I've really about had it with this guy," Icahn said. "He's like the cry baby in the schoolyard."
Business Insider labelled it "The Greatest Moment In Financial TV History." Coined the 'Bickering Billionaires' by CNBC, you can listen to the first online public brawl here.
That spat and the ensuing billion-dollar bets were placed in 2013. Fast forward to today, we mere mortals are faced with a different landscape. This article highlights (what I consider the) salient points in the end game for Herbalife and Icahn.
Reflection: What have I learnt from the losses of my HLF short?
I have watched HLF's relentless ascent (holding my short since 2014) with dismay, hoping in vain for justice to prevail. I say this in defeat, as I placed credence on the ex-FTC Chairwoman whose categorical reprimand in 2016 and a $200m fine 'ought' to have curbed HLF's misleading ways.
So what have I learnt - the expensive way - about investing?
In the murky world of current politics, where 'I scratch your back and you scratch mine', I didn't allow enough scope for Icahn to tilt legislation in favour of his $18bn empire via a sympathetic presidential ear, especially since I knew Icahn had already been of invaluable assistance to Trump as the 80-year-old activist shareholder and long-time friend once helped Trump keep control of his troubled New Jersey casinos. The back-scratching appears to be a two-way street. Just days before Trump announced steel import tariffs in March '18, Icahn sold his stake in Manitowoc (NYSE:MTW) at a material premium to the share price when the tariffs were publicly announced and the share took a hit. But, of course, that was pure coincidence!
I didn't expect President Trump to be this influential. In his first term, there is already some evidence of the "political shifting of the playing field". Edith Ramirez, the chair of the FTC who was instrumental in the HLF injunction, who famously said, "Herbalife is going to have to start operating legitimately", has suddenly been shown the door at the FTC, in a departure that can be described as nothing short of abrupt and unexpected.
So, going back to the present, I have learnt through my HLF losses that morality only has a place in markets if it impinges on prices. These are some of the questions that have had no bearing on HLF's share price: whether Ackman spoke the truth, and HLF was indeed an illegitimate enterprise that will be one day be halted by the FTC; whether Icahn had the inside track on how lenient the investigation into HLF would be; whether Icahn (through his connections with Trump) and HLF itself had undisclosed intelligence on the shape and form the FTC Injunction would take; and how easily HLF would circumvent the FTC and the Independent Compliance Auditor (ICA).
As interesting as these moral issues might be, on raw mercenary Wall Street, they are academic; none have come to bear in the last five years on the ultimate arbiter: the value of Herbalife.
So, the relevant question for an investor today is, 'Now what?' This article summarises the current outlook for HLF and my conclusion on staying short.
Yes, Icahn made a big gain in HLF, demolishing Ackman's short along with his ego. But where's the exit?
One thing should be made absolutely clear. Herbalife has been an incredible performer in the last 5 years since Icahn's entry, doubling an ebullient S&P 500 index to post a cumulative gain of 127% versus 64% for the market. For Icahn's IEP (with a +25% stake), the capital gain is about equal to Ackman's loss of $1 billion.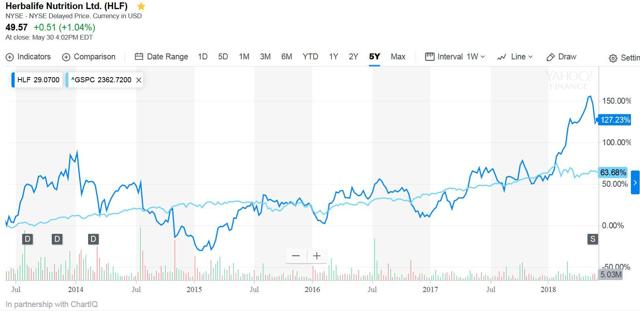 It's worth noting Herbalife has handsomely outperformed IEP's other listed investments. The other significant holding within IEP is Avis (NASDAQ:CAR); the graph below shows how HLF has trounced Avis as well as the investment holding company Icahn Enterprises LP (NYSE:IEP).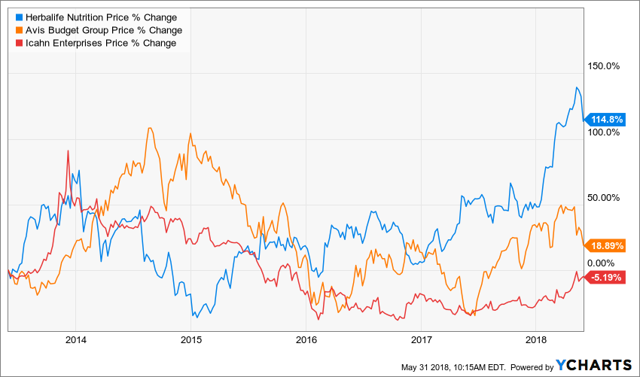 But this massive outperformance takes us to Icahn's dilemma; HLF has grown enormously in the IEP portfolio, now representing a gigantic 24% (or $2.1bn) of its NAV (before the just announced trim of $600m, but still accounting for 18% of IEP's NAV).
His recent sale (25 May '18) points unequivocally to his stance on HLF:
For almost six years, we have been one of Herbalife's strongest, most loyal supporters; we stood by the Company through a half-decade long short-selling campaign; and we never sold a share, even after our investment doubled. But, given that our Herbalife investment has become an outsized position, representing approximately 24% exposure to total NAV, it is only prudent for IEP to reduce its exposure.

IEP's investment in Herbalife is a quintessential example of our activist investment strategy. In late 2012 and early 2013, when Herbalife was under attack and the stock was out of favour, we studied the business and assessed the risks. At that time, we concluded the risk/reward ratio was very favourable.
The last sentence is key: "At that time, we concluded the risk/reward ratio was very favourable". By virtue of his $600m sale, it is logical that Icahn now believes - after the dramatic appreciation since 2013 - that the risk/reward ratio now points to a reduction if not an outright exit on HLF.
This statement is cardinal to HLF's prospects going forward. You see, a dangerous risk to the HLF short thesis was that Icahn would take Herbalife private, insulating the company from SEC scrutiny and quarterly reporting requirements, probably paying a nice premium on the takeout. However, as of last week, I'm certain this risk has been eliminated. Icahn is now a weak holder. He has humiliated Ackman publicly, made a fat profit, realises HLF is too large a holding in IEP, and, most importantly, the logical deduction from his statement above is that HLF's risk/reward ratio is no longer favourable. Icahn's intention to exit HLF is supported by the fact that he tendered his entire holding of 46m shares in the tender offer, although only a quarter was accepted.
The Structure of IEP
Another salient point hinges on the structure of Icahn Enterprises. In April '18 IEP sold a significant holding in Federal-Mogul, which was an operational and consolidated entity; IEP received cash and Tenneco (NYSE:TEN) shares in exchange. The transaction's consequence is that a controlled operating entity (Federal-Mogul) has been converted into an investment within IEP. As from IEP's 2018 first quarter 10Q disclosure (page 14):
We conduct and plan to continue to conduct our activities in such a manner as not to be deemed an investment company under the Investment Company Act of 1940, as amended (the "'40 Act"). Therefore, no more than 40% of our total assets can be invested in investment securities, as such term is defined in the '40 Act. In addition, we do not invest or intend to invest in securities as our primary business. We intend to structure our investments to continue to be taxed as a partnership rather than as a corporation under the applicable publicly traded partnership rules of the Internal Revenue Code, as amended.

As discussed in Note 18, "Subsequent Events," in April 2018, we announced definitive agreements to sell Federal-Mogul and Tropicana. Following the closing of our contemplated sale of Federal-Mogul, it is likely that we would be considered an investment company but for an exemption under the '40 Act that would provide us up to one year to take steps to avoid becoming classified as an investment company. We expect to take steps to avoid becoming classified as an investment company during this exemption period, but no assurance can be made that we will successfully be able to take the steps necessary to avoid becoming classified as an investment company.
To summarise: IEP has sold an operating entity (Federal-Mogul) and received Tenneco shares and cash; IEP intends to maintain its current status and NOT become classified as an investment company. Note HLF is also an investment holding, and Icahn has shown no desire to take it private and consolidate/control it, as he's just sold a quarter of his stake. Icahn urgently (by April '19) needs to purchase an operating subsidiary to retain that legal status of IEP and ensure no more than 40% of IEP's assets are investments (cf operated entities).
Conclusion
Before his recent May '18 sale, there was always the possibility that Icahn would take HLF private, and this would secure his tax status as HLF would then be an operational (and consolidated) entity within IEP. However, he has implicitly stated HLF's risk/reward ratio is no longer favourable, and he has begun selling! IEP has until April '19 to sell (all or virtually all) its HLF shares and use the proceeds to purchase an operating entity. This is of paramount importance to retain the tax status of IEP.
No more room for financial leverage in HLF
It's worth noting that Icahn has been very influential in HLF's value unlock, not only by his solid support but also due to financial restructuring he implemented (two Dutch auctions of $600m each replacing equity with debt). This adds weight to my 'Sell' conclusion today: there is no more room left for leveraging HLF's capital structure!
This is perfectly portrayed by the graph below. The Dutch auctions initiated by Icahn have led to a doubling of debt in the last five years, from $800m to $2.2 Bn. The share buybacks have also depleted shareholder equity (the premiums paid over par value of the ordinary shares are deducted from shareholder reserves); the company's equity and book value are now negative. One can safely conclude HLF is maxed out on debt. There is no more scope for financial leverage - we have $2.2bn of debt and negative equity!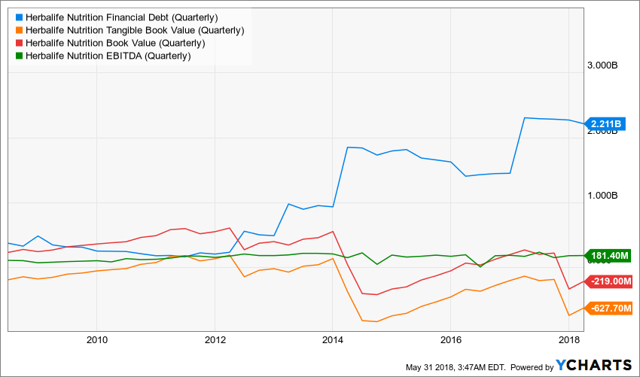 Has Ackman just disappeared from the HLF stage? Permanently?
Imagine the scene. Icahn is trumpeting his victory from the rooftops of Icahn Enterprises (767 5th Ave #4700, New York) while Bill Ackman squirrels hurriedly between disgruntled clients to quell the large investor redemptions from his fund, Pershing Square Holdings (PSH) (OTCPK:PSHZF) whose appalling recent performance makes it difficult for Ackman to sleep without the sedative help of a Formula One Shake.
You may recall an interview at the onset of his 2012 short, where he publicly avowed to go to the 'ends of the earth' to stop this criminal enterprise. Is it possible that Ackman has just reneged on his vow, a demand made by his PSH clients? Yes that's possible…
But my gut (and it's purely a hunch) tells me an alpha-type personality like Ackman is not going to quietly 'forget' his public vow. Granted PSH clients have probably demanded he desist from any public HLF statements, but that doesn't stop him continuing the crusade in his private capacity. That's why, this report, by none other than analyst Christine Richard (who first introduced Ackman to the idea of an HLF short) is of import. The article outlines an entirely new and egregious side of HLF; I speculate it wasn't published before (when the author forwarded her short idea to Ackman in '12), as the claims are criminal in nature, and a court process would probably be very lengthy. I urge you to read it. And, if Ackman wanted to pursue his public commitment 'to the ends of the earth', he could use his influence to ensure this damning indictment receives regulatory attention.
The Final Arbiter: Valuation
Ok, let me start with a confession of my grave inaccuracy. In August 2017, straight after the unprecedented FTC fine of $200m and a severe injunction designed to curb HLF's deceitful ways, I wrote an article on SA that summarised my valuation: Herbalife: Pivoting To Legitimacy And Decline. I gave HLF a maximum lifespan of 10 years with profits falling by 10% pa; I presumed the FTC's provisions of redirecting HLF's operations to genuine third-party sales, as opposed to rewarding its members primarily to recruit others would deliver a fatal blow to its business model; first in the US, and then in other regions, as foreign governments instituted similar constraints. I have been exactly wrong in thinking HLF's share price would halve, whereas actually it has doubled. To say I was wrong is an understatement. But to say I'm appalled that HLF continues in brazen contempt of the FTC consent order is also an understatement.
But let's move forward and forget my mistake (please!). How does the valuation stack up now? Focusing just on the valuation and the earnings profile, this chart shows the market has re-rated (i.e. higher EV/EBITDA ratio) HLF when the earnings profile (EBITDA) has been as flat as a pancake! Does this flat earnings profile deserve a doubling of the rating since 2014 (EV/EBITDA ratio going from 6 to 12)? This strongly suggests that the re-rating was not based on an improving earnings trend or brighter prospects but mainly due to Icahn's financial engineering and Dutch tenders… and we're maxed out on that route!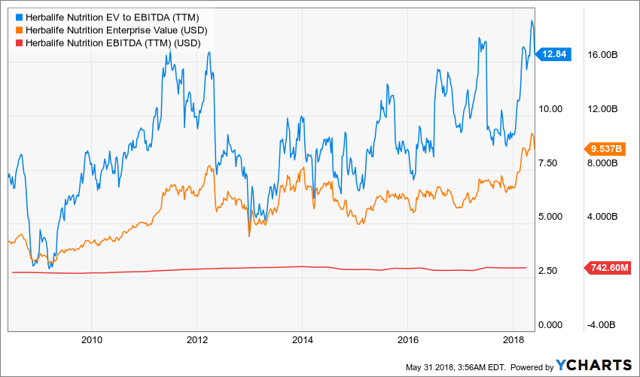 Who will replace Icahn as HLF's anchor tenant?
The table below shows the movement in the institutional holders over the last six months, as HLF's rating has moved materially upwards.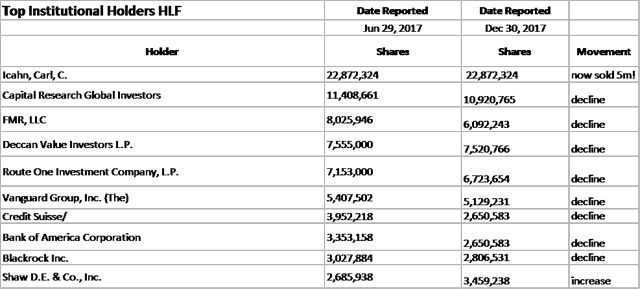 Note 8 of the 9 institutions (except D E Shaw) have reduced their HLF stakes, and subsequent to the December reporting date, Icahn has just sold 5m shares (actually 10m post the split, but the data above is prior to the 1:1 share-split in May '18).
The question begs asking who will HLF entice as a large solid institutional holder now, to replace Icahn's departure… especially in light of the (slim) possibility that the FTC begins doing its job!
Conclusion:
Sell before the Icahn deluge.
Disclosure: I am/we are short HLF.
I wrote this article myself, and it expresses my own opinions. I am not receiving compensation for it (other than from Seeking Alpha). I have no business relationship with any company whose stock is mentioned in this article.