Herbalife Ltd. (HLF)|By: Mamta Mayani, SA News Editor
Herbalife Nutrition (NYSE:HLF) has closed a new $1.25B senior secured credit facility, which consists of a $250M revolving credit facility maturing August 2023, a $250M term loan A maturing August 2023 and a $750M term loan B maturing August 2025.
The Company also closed previous offering of $400M aggregate principal amount of Senior Notes due 2026.
Net proceeds were used to refinance all amounts outstanding under its prior senior secured credit facilities, to pay related fees and expenses and for general corporate purposes.
Herbalife: Profiting From Global Trends

Portfolio strategy, hedge fund manager, long/short equity
(3,019 followers)
Summary
HLF is breaking out higher.
Its fundamentals remain strong.
I am buying stock in this name.
This idea was first discussed with members of my private investing community, Absolute Returns. To get an exclusive 'first look' at my best ideas, start your free trial today >>
Herbalife (HLF) is breaking out higher amid continued strength of its fundamental operations. Top line growth is accelerating as demand for its product remains strong, while distributor enthusiasm is leading to greater sales volume globally. Its balance sheet remains healthy, even as the company has added to its debt levels. HLF's valuation multiple is in line with its peers, while investor sentiment remains elevated with the company's share price in a strong trend higher. I am buying stock in this name due to its strong fundamentals driving share price gains.
Revenue & EPS
In the most recent quarter, HLF saw net sales of $1.3 billion, which represented an increase of 12% compared to the prior year. Volume point growth was broad-based, including double-digit growth in four of its top five markets. Q2 volume points of 1.5 billion was the highest volume point total in any quarter over the 38-year history of the company, signaling continued strong demand for its product. One of the most notable regions was in the U.S. market, which grew by 19%.
This reflected strong consumer demand for its products, as well as the efforts of its distributors to implement their new tools and procedures put in place over the last year. In China, HLF returned to growth during the quarter with a volume point increase of 27%, setting a new volume point record for the country. Overall, the company looks to be experiencing strong demand globally for its product offerings.
Another performance metric that reflects the health and momentum of its business is the opportunity for distributors to be successful within its distributor recognition ecosystem. Globally, excluding China, HLF had the highest number of new qualifiers for its President's Team, a club based on sales volume, since Q1 of 2013, according to its earnings call. The company had more new members achieve the President's Team level in Q2 than the past six quarters combined.
Below is a chart of the company's revenue and earnings per share. Although revenue is picking up, EPS has fallen in recent years. Nonetheless, the company continues to operate at a per share profit signaling that management is efficiently converting top line growth into bottom line results. As revenue potentially continues to increase after a few flat years, EPS should similarly pick up.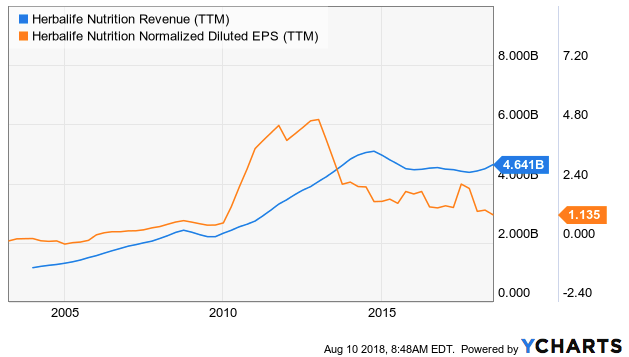 Demographics & Growth Potential
HLF continues to see demand for its products due to global demographics. For example, its local distributors are able to fill a need in light of global megatrends, including increasing rates of overweight and obesity, the high cost of healthcare, as well as an aging population. Its business opportunity also play into the megatrends of individuals seeking an entrepreneurial and flexible working situation. Management also had this to say about its drivers of growth.
"Our drivers for growth include expanding our product portfolio to sell more products to existing customers, who give us permission to speak to them about something as personal as a nutrition needs and their weight and body transformation goals along with accelerating the launch of new products and entering new product categories in order to attract new customers."
And
"We are also focused on leveraging technology to improve the customer and distributor experience and improve the efficiency and productivity of our distributors, strengthening our distributor difference through education and training, and above all, creating a culture of innovation across all areas of our business."
Balance Sheet
As far as balance sheet, the company has been increasing its debt burden in recent years. In the most recent quarter, HLF announced the completion of its $600 million self-tender offer. It is also currently in negotiations regarding a proposed refinancing, which is expected to consist of a combination of revolver, bank debt, and unsecured debt. This refinancing will extend maturities, reduce interest expense, and allow for greater flexibility in its use of capital.
Below is a chart of the company's total debt relative to sales, as well as its interest expense as a percentage of sales. Both metrics have been increasing since 2012. Although management has started to utilize debt financing more in its capital structure, the level of debt and interest expense remain manageable. For example, its interest expense relative to total revenue is only a small fraction, with its EBIT to interest coverage ratio at a reasonable 3.725.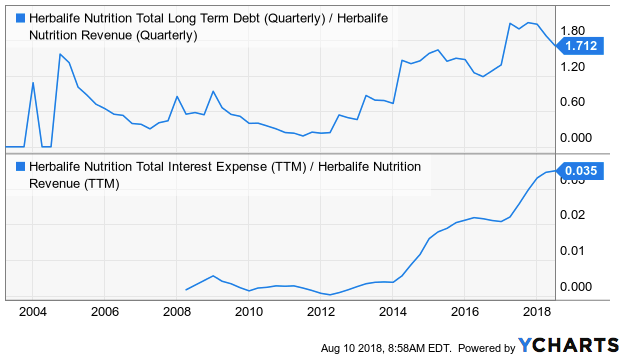 Valuation
As far as valuation, the company looks to be in line relative to its peers. Its peer group is defined as Nu Skin Enterprises (NUS), Spectrum Brands Holdings (SPB), Colgate-Palmolive (CL), and Procter & Gamble (PG). Below is a chart of the company's Enterprise Value to EBITDA ratio. This takes into account both equity and debt, neutralizing the effects of leverage in its capital structure. Although HLF has seen multiple expansion in recent years, it is still reasonably valued relative to its peers.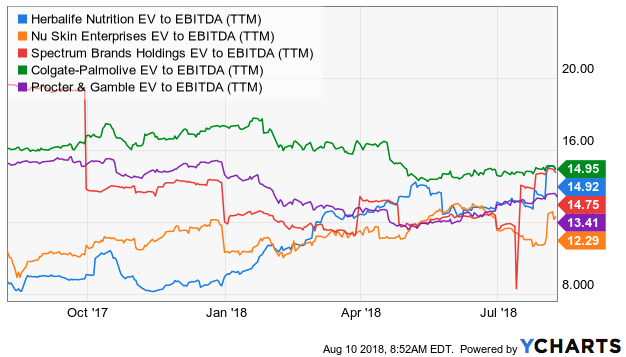 Price Action
The company has seen its share price move significantly higher in recent years, but is again breaking out of a consolidation pattern formed during the market volatility in 2018. HLF's continued strength has led it to maintain its trend higher, without losing investor momentum since 2015. Continued product demand and top line growth for its product should drive further share price gains.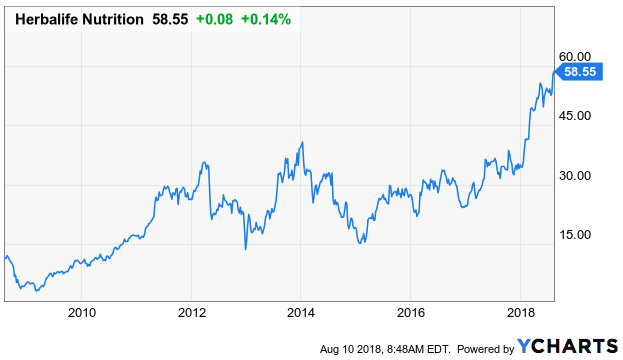 Conclusion
HLF is a cyclical company, at the will of the health of the broader economy. Should investor and consumer sentiment sour within the global economy, HLF could see its share price pull back, and even begin to trend lower. Overall, the company continues to expand its operations, seeing positive results among both its consumers and distributors. It has a healthy balance sheet, as well as continued upward share price momentum, leading me to buy stock in this company.
Markets move quickly. To take advantage of the highs and lows - especially in today's volatile environment - you need a strategy that's nimble and flexible. My approach is both, and it enables me to move in and out of assets and sectors while continually generating double-digit annualized returns. Sign up for Absolute Returns today to see how I manage my portfolio in the continuously changing market environment. Many believe absolute returns and beating the market are mere fiction, but I assure you they're not. See for yourself how you can benefit from my approach, and how your portfolio can profit, regardless of market conditions.