Thesis
Despite arguments to the contrary, Herbalife (HLF) operates a multi-level marketing program in China. This business has come under extreme pressure now that the Chinese government has pledged to "Resolutely eradicating multi-level marketing firms." Herbalife becomes a very good short candidate if we couple that with the fact that we have yet to see a full quarter with the FTC regulations implemented.
Introduction
The FTC ruling marked a pivotal moment for the company. Although management touted the ruling as a victory, in truth, it was anything but. The FTC stopped short of explicitly stating the company operates like a pyramid-scheme, something Ackman has been arguing for years now. Here's a quick excerpt:
Notwithstanding Defendants' express and implied representations that Herbalife offers a retail-based business opportunity, in truth the only way to achieve wealth from the Herbalife business opportunity is to recruit other Distributors. Purchases by these recruited Distributors, referred to as a "downline," generate rewards for the sponsoring Distributor. (See ¶ 119.) Through a variety of channels, Defendants admit, expressly or by implication, that recruiting is the key to financial success."
The new rules that were borne out of the ruling have affected the company for a while. By all accounts, the writing is on the wall. US "volume points" growth came in at a negative 18%. Management's attempt at explaining such a dramatic trend reversal borders on humorous.
In his prepared statement, the CFO stated that this decline was partly a result of an impressive comparable quarter. Basically stating that 2Q16 was so impressive, that it is only natural that keeping up would be difficult. Luckily, the elephant in the room is also addressed:
As we anticipated, this was a challenging period from a volume point comparison perspective. As Rich stated earlier, Q2 last year was the largest volume point quarter in the Company's history. In addition, this year's second quarter was negatively affected by the transitionary impact of the FTC implementation, as well as the previously disclosed April 1st price increase in China that pulled volume into Q1 and Q2."
Of course, any executive worth his salt possesses the ability to spin the narrative, which brings us to the following sentence:
This decline in volume is the result of short-term trends from behavior, pattern adjustments due to the FTC implementation, which we believe is transitionary in nature. Throughout this transition, our distributors have continued to adapt and educate their organizations, our new tools, and procedures and continued to demonstrate high engagement levels."
I can almost sympathize with management. What is it supposed to do? Admit that the business has been significantly impaired? Stock option forbid! Speaking of sympathizing, there's one country that absolutely doesn't sympathize with Herbalife's business model.
Is Herbalife a multi-level marketing operation in China?
There is some debate as to whether Herbalife is multi-level marketing in China. This is because China regulates this type of business very strictly. Also, the CEO has stated that the business in China is "very different" from that in the US. To that extent, I'd like to start with this beautiful slide:


Sourced from Bill Ackman presentation.
For those of you that are wary of Bill Ackman and his bias, I took the trouble of pulling up the 2Q08 transcript:
China is 1,300 million people. You can recruit for a long time there before we have what was called the classic pop and drop in that marketplace."
Objectively speaking, this sentence implies that:
1) The market is built upon recruitment.
2) Sales are dependent on recruitment as a marketplace will eventually go "pop-and-drop."
However, I'm sure many will argue that this is insufficient evidence. I agree, so here's the rundown of the operations in China. There are three categories of "participants":
1. Preferred Customer [PC]
2. Business Representative [BR]
3. Distributor
To become a PC, you need to purchase a BR kit which will cost you about 100 RMB. The only reason why you'd want to purchase such a kit is because you're planning on becoming a distributor. This is evident in the fact that said kit provides no added benefit. A "Preferred Customer" does not actually get preferred treatment like for example discounts.
After that, you'll need 100 volume points to reach the level of BR. One Volume Point was worth 12 RMB. All though, HLF upped its price so it probably costs more than that, but it is hard to figure out exactly how much. The current RMB costs are sourced from Ackman's presentation.
As a PC, you can collect these Volume Points by purchasing them (products are worth an X amount of Volume Points). Alternatively, you convince others to purchase products.
Business Representatives also order products at the full retail price. There's one difference, though. These Business Representatives are paid back in "Retroactive Credit," which starts at 15% of the sales price and increases as one accumulates more Volume Points.
Those that receive Retroactive Credits, refer to them as salary or pay. These Retroactive Credits are also taxed like income is. Any sale that a BR makes will net him 30% in credits of which 15% to 25% is allocated to the BR and the difference flows to the upline.
Thus, having people "under" you is beneficial as you will receive 5-15% for every sale a recruited person makes.
To become a distributor, one needs to acquire 5k Volume Points within three months by either recruitment or purchases. Finally, there are five type of distributors as seen in the slide below.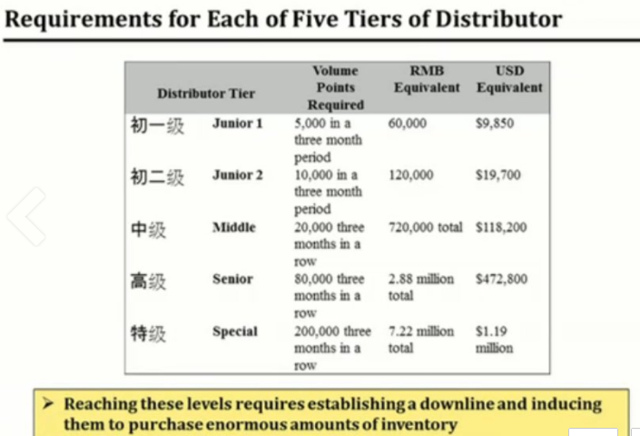 Sourced from Bill Ackman presentation.

Clearly, this is multi-level marketing operation. The only reason it might not appear as such is that HLF has substituted pay with retroactive credits. With that out of the way, we can now discuss why recent developments in China appear so problematic.

China China China
China was supposed to be a huge growth market. After all, the market is vast and largely untapped. Already the growth in China has made it Herbalife's second largest market. Still, after double-digit growth rates as recently as June last year, the segment has barely budged in the first half of 2017 with Volume Points growth coming in at 0.5%.
With the benefit of hindsight, management should probably be grateful for that since the Chinese government is cracking down on the multi-level marketing business model.
Multiple high-level government bodies are involved in the crackdown, including three ministries. Supposedly, the press release translates to:
Resolutely eradicating multi-level marketing firms"
From that same article, we can understand that they are specifically targeting employee recruitment:
The Ministry of Education, Ministry of Public Security, State Administration of Industry and Commerce, and Ministry of Human Resources and Social Security will together lead a three-month "rectification" campaign starting Tuesday. They're said to specifically target employee recruitment."
While the FTC was unwilling to call a spade a spade, the Chinese government doesn't seem to have any problems using frank language.
How this three-month campaign will work is hard to tell as I was unable to find additional sourcing. I should add that China has already been cracking down on the investment scheme. So much so that investors are protesting on the streets. These protesters feel that the government is taking away their livelihood.
The government does not seem to be too bothered by this as it has even arrested a founder and several employees of a multi-level marketing firm called Shanxinhui. What really illustrates that the government's "eradicate" choice of word is not merely hyperbole is the fact that these people were arrested on charges of defrauding "a huge amount of property and wealth."
Shanxinhui's "product" was that those who donated to the company would receive larger sums of donations from other members. Herbalife follows the same concept as its biggest customer group consists of its distributors. It is also promised that other members will generate wealth for it.
Herbalife as a trade
In any case, China is now cracking down on all multi-level marketing firms. There is absolutely zero reason to believe that Herbalife will emerge unscathed. In fact, I am quite looking forward to the 3Q17 results. By all means, it will be a double whammy. Investors can look forward to three months of operational results while the FTC has been fully implemented. Additionally, the Chinese government's pledge to eradicate multi-level marketing firms will almost surely negatively impact 3Q17 results. Eventually, if we are to take the government's word for it, multi-level marketing will be a thing of the past.
Given that one month of FTC implementation cost the company 18% in Volume Points, three months of implementation should have a very big impact. While it is hard to quantify the effects on Herbalife's China sales as a result of the pledge and campaign to eradicate, it is clear to see that there will be at least some impact. None of this was discussed on the 2Q17 conference call suggesting to me that it is not included in the company's guidance.
Of course, it would be extremely naïve for me to think that the company did not see the writing on the wall. Perhaps that is why Herbalife's Head of China left. In any case, while it might have seen the writing on the wall, I do not believe that this development has been included in the company's guidance. It appears that vindication is within reach for Bill Ackman.
Disclosure: I/we have no positions in any stocks mentioned, but may initiate a short position in HLF over the next 72 hours.
I wrote this article myself, and it expresses my own opinions. I am not receiving compensation for it (other than from Seeking Alpha). I have no business relationship with any company whose stock is mentioned in this article.